Gastroenterology
The Oregon Clinic GI team is experienced in providing the highest quality gastrointestinal care, including advanced therapeutic and diagnostic procedures backed by the latest data and research.
ABOUT US
OUR TEAM
CONDITIONS & RESOURCES
OUR LOCATIONS
We are located right in your community, with a growing team of more than 70 physicians and advance practice practitioners who excel at what they do—everything from working to beat colon cancer to helping patients manage their Crohn's & Colitis, to getting to the bottom of heartburn and other digestive related diseases.
Our doctors are specifically trained to care for diseases of the esophagus, stomach, liver, colon, intestines, and gallbladder, so you'll get the peace of mind a specialist can offer.
Having a colonoscopy?
Understand Your Prep
Understand Your Procedure
Understand Your Insurance
Insurance can be challenging to understand. There are many different guidelines for colonoscopy and insurance benefits can vary. No one wants to have a surprise expense. Take a few minutes to learn the differences between a screening and diagnostic colonoscopy.
Ready to contact your insurance and need help with what to ask? Click here for an easy guide to use while discussing benefits with your health plan.
Understand Your Results
Your initial results and procedure note will be sent to your primary care physician within two business days. If pathology was taken, it will be sent out for processing by a GI Pathologist at Inform Diagnostics. When results are returned your physician will review and notify you of the results within 2-3 weeks.
Quality
The physicians at The Oregon Clinic Gastroenterology participate in GIQuIC, the GI Quality Improvement Consortium, a medical registry utilized by gastroenterologists in the United States.

Physicians contribute procedure data to GIQuIC which is then analyzed so adjustments can be made to allow us to continuously improve the quality of care we provide to our patients. The willingness to track and measure performance is a sign of your physician's commitment to what is best for you, the patient. And participating in GIQuIC is demonstrated to improve patient outcomes. The data in this national registry is also used to advance research and develop guidelines for care across the field of gastroenterology.
GIQuIC is a powerful tool in the fight against colon cancer and we use it to look at a number of different measures to ensure our procedures are as thorough and effective as possible. Below are three measures we track against the national goals that have been set by the GI societies.
Cecal Intubation Rate
The goal of a colonoscopy is to advance the scope all of the way to the cecum and that is measured by Cecal Intubation Rate. The national standard for doing so has been set at 90% by the GI societies.
Average Withdrawal Time
Once the cecum is reached, the endoscopist will withdraw the scope while searching for adenomas. Adenomas are a type of polyp that can turn cancerous so it's important to identify and remove them during a colonoscopy. It has been determined that the withdrawal time should be no less than six minutes to ensure a thorough examination.
Adenoma Detection Rate
Adenoma Detection Rate, or ADR, is considered to be the most important quality indicator for a gastroenterologist and it calculates the percentage of time that at least one adenoma is detected during a colonoscopy. In fact, for every 1% increase in ADR, colorectal cancer rates decrease by 3% and morbidity decreases by 5%. The GI societies have set a national goal of 25% for Adenoma Detection Rate in screening colonoscopies.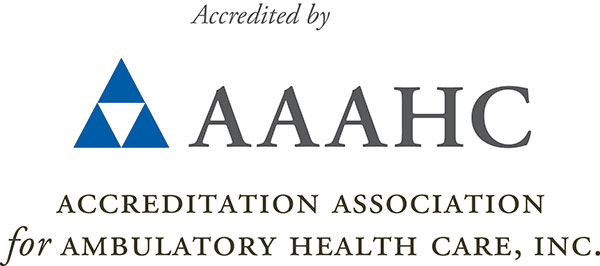 We are proud to be recognized by the Accreditation Association for Ambulatory Health Care. All of our sites have been awarded a three-year accreditation, the maximum given by AAAHC.

CONDITIONS
Anal fissure
Autoimmune hepatitis
Barrett's esophagus
Celiac disease
Cirrhosis of the liver
Clostridium difficile
Collagenous colitis and lymphocytic colitis (microscopic colitis)
Colon polyps and cancer
Constipation
Crohn's disease
Cyclic vomiting syndrome
Diarrhea
Diverticulosis and diverticulitis
Eosinophilic esophagitis
Fatty liver
Fecal incontinence
Fructose intolerance
Functional or non-ulcer dyspepsia
Gallstones and bile duct stones
Gas in the digestive tract
Gastritis
Gastroesophageal reflux disease (GERD)
Gastroparesis
H. pylori and peptic ulcers
Hemorrhoids
Hemochromatosis
Hepatitis A – E
Hepatitis C
Indigestion
Inflammatory bowel disease (IBD)
Intestinal pseudo-obstruction
Irritable bowel syndrome (IBS)
Lactose intolerance
Nonalcoholic steatohepatitis
Pancreatitis
Peptic ulcers
Prevention of colon polyps and cancer
Primary biliary cirrhosis
Primary sclerosing cholangitis
Proctitis
Rapid gastric emptying
Rectal bleeding
Ulcerative colitis

PROCEDURES & TREATMENTS
Anorectal manometry
Capsule endoscopy
Colonoscopy
Endoscopic retrograde cholangiopancreatography (ERCP)
Endoscopic ultrasound (EUS)
Esophageal pH and manometry
FibroScan
Flexible sigmoidoscopy
H. pylori (heliobacter pylori) breath test
Hemorrhoid banding
Infusion therapy
Small intestinal bacteria overgrowth (SIBO) breath test
Upper endoscopy