Imaging Center
The Oregon clinic offers four imaging modalities—MRI, CT, ultrasound, and X-ray—with highly trained team of specialized radiologists and staff. 
ABOUT US
OUR TEAM
CONDITIONS & RESOURCES
OUR LOCATIONS
When you or your family members have an illness or injury that requires medical imaging, we know that you want answers.  At The Oregon Clinic, our team of highly trained specialty radiologists and radiology technologists partner with your physician or practitioner to ensure that you receive the highest quality imaging studies to evaluate your condition or symptoms, and your study results are usually available to your physician or practitioner within one business day. 
The Oregon Clinic partners with a team of board-certified and specialty trained radiologists who interpret our studies and consult with your primary care physician and other specialists to evaluate conditions, diagnose illnesses, and prescribe treatments.  
Highest Quality
Our digital CTs and MRIs, as well as ultrasounds and x-rays, are interpreted by board-certified radiologists, many of whom have completed additional fellowship training in their area of specialization. Our facility is accredited by the American College of Radiologists (ACR).
Low Radiation
Our top of the line CT equipment means that patients receive 50-70% less radiation during CT scans. 
Ease of Scheduling
Our office schedules directly with you, and we are often able to provide same or next day services depending on your individual insurance and the type of imaging study that is being ordered.
Cost Effective
Our services are on average at least 25% less expensive than at area hospitals.
Fast Results
Results are typically sent to your provider by the next business day.  
Easy Access
Our office is located next to the Gateway Transit Center, just off I-84 and 205. We have free parking in front of the building and the Imaging Center is on the 1st floor near the entrance. 
Highly Rated Patient Experience
98% of our patients rate us highly and would refer us to family and friends. Our team takes extra care to explain procedures thoroughly and offer support and kindness. We customarily run on time and patients report a quicker in/out experience than in a hospital. We even provide warm blankets and comfortable scrubs to patients!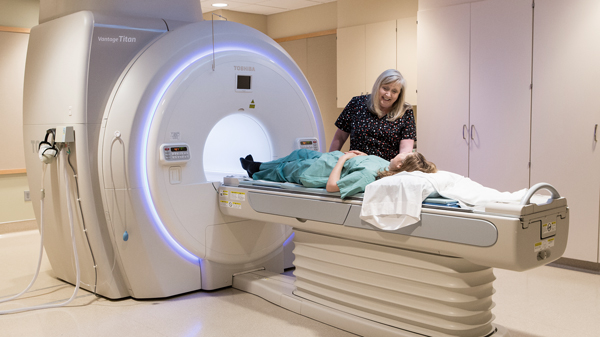 Health Professionals
Use this form to order imaging tests.
Fill out all sections completely by hand or digitally.
Print form and have ordering clinician sign order.
FAX order to Imaging at 503-963-2982.
If study is needed same day, or is urgent, please call our office at 503-963-2990 for scheduling assistance after faxing orders.
Neuroradiology
Body Imaging
Women's Imaging
Musculoskeletal
Vascular/IR Imaging

PROCEDURES & TREATMENTS
CT scan
MRI
Ultrasound
X-ray