After a week-long yoga retreat this summer, 67-year-old Patricia, an avid gardener and grandmother, was excited to tell her husband and daughter that she'd done a head stand.
"Yoga, goats, and gardening are my passions," Patricia said. "Yoga helps me stay active and stress-free, and I love coaxing my garden into life each summer."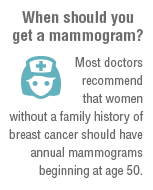 It was only last fall that Patricia went in for a routine mammogram.  After the test revealed a lump, her doctor scheduled two additional tests the same day. These tests confirmed she had breast cancer.
"At first, I was angry at my rotten luck," Patricia said. "But there was nobody to be angry at."
Patricia spent the days following her diagnosis researching and reading through all of the credible breast cancer information she could gather. She learned that her early diagnosis and active lifestyle would help during her fight against cancer.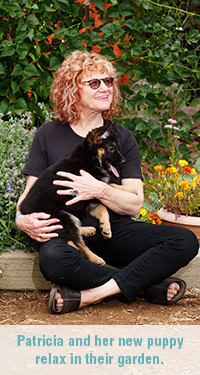 "Over time, I was just grateful for how early my cancer was diagnosed and the incredible new treatment options that had become available to cancer patients like me," Patricia said.
This wasn't Patricia's first fight against cancer: she survived malignant melanoma nearly 30 years ago. But breast cancer was a new challenge for her, and with it she faced many new questions.
"I wanted a crystal ball to understand all of the steps to treatment or a schedule so that I could know what was coming next, but that isn't always possible," Patricia said.
Treatment options had broadened tremendously since Patricia's last battle with cancer.  With the help of her doctor, Patricia selected a team consisting of a medical oncologist, an oncology surgeon, and a radiation oncologist, Dr. Alice Wang-Chesebro of The Oregon Clinic.  Her cancer care team and her oncology nurse navigator helped her understand her options and answer questions that came up during the course of her treatment as well as guide and support her through the stressful and emotional stages of cancer treatment.
"Often times, it's difficult for us to make the best recommendations about certain stages of treatment until we better understand the patient's anatomy and characteristics of the patient's cancer," Radiation Oncologist Dr. Alice Wang-Chesebro said. "This was the case for Patricia, who needed to have the results of her lumpectomy before Dr. Wang-Chesebro could make the best recommendation for radiation treatment.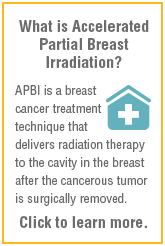 "The uncertainty of which options might become available as time passes makes it all the more important that you can trust your team to help you make the best choices in treatment, and understand how those choices will benefit you," Patricia said.
After her successful surgery, a new radiation therapy option became available to Patricia—a five-day course of treatment called Accelerated Partial Breast Irradiation (APBI). "APBI offers two key advantages: it reduces treatment time from six weeks to just five days, and it spares healthy tissue from unnecessary irradiation," Dr. Wang-Chesebro said.
"After the first day of radiation therapy, I knew the routine. I knew where to go and what to expect, and knew that my cancer team was always there to answer my questions," Patricia said.
"It's never easy or stress-free to get a diagnosis of cancer, but feeling great confidence in your team can do wonders to take some stress and worry away."
"Treatment was over with very little disruption," Patricia said.  "It's never easy or stress-free to get a diagnosis of cancer, but feeling great confidence in your team can do wonders to take some stress and worry away."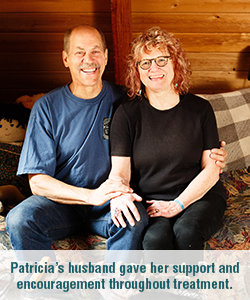 From the immediate referrals to other care professionals when she needed them, to things as simple as phone call reminders for follow-ups, the personal treatment and attention to detail let Patricia relax and focus on healing.
Patricia's physicians encouraged her to stay active during her post-treatment recovery. "During treatment for cancer, you have so many limitations to what you can do," Patricia said. "But I stayed positive. When my treatment was ending, I immediately started ordering seeds for my garden." Looking toward the future, Patricia and her husband adopted a new puppy. They point out, "She'll keep us busy with numerous walks and training."
Dr. Alice Wang-Chesebro, Radiation Oncologist
Patricia's board-certified Radiation Oncologist at The Oregon Clinic was Dr. Alice Wang-Chesebro. She specializes in brain, breast, gastrointestinal, gynecologic, lung, and head & neck cancers.