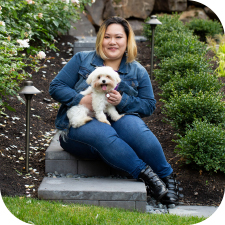 After suffering from severe stomach pain for over a year, at 32 years old Lynn's world was turned upside down when she was diagnosed with stage two colon cancer. Lynn first noticed something was wrong when she developed blood in her stool and was unable to complete bowel movements. After multiple ultrasounds and visits to the doctor, Lynn ended up in the emergency room due to the pain. A colonoscopy confirmed the cancerous polyps. After discussion with her doctors, Lynn had colectomy surgery and began chemotherapy treatment.
Screenings After Surgery

Lynn was then referred to Dr. Michelle Beilstein at The Oregon Clinic Gastroenterology South for follow-up screenings. "Dr. Beilstein is really knowledgeable. If she suspects anything, she'll do all the different exams to make sure you're getting the best care possible," Lynn says. "She made sure to talk to me about all my concerns."
After therapy for her colon cancer, Lynn has continued to see Dr. Beilstein for regular colonoscopies and endoscopies. Lynn also underwent genetic testing and found she has a predisposition to potentially develop other cancers as well. "It's scary every time. You're constantly moving between all the tests and blood work and scans. You're always wondering in the back of your mind: do I have cancer this time or not?"
At her last colonoscopy, Lynn received the good news that no cancerous samples were present. "After overcoming everything, I still have to be careful, but I believe you have to keep living your life," Lynn says. "Even if I don't feel well, I try to do little things every day. Sometimes it's just getting out of bed. To people who aren't sick, that seems like nothing."
Adapting to Life After Treatment

Lynn's cancer diagnosis, combined with chemotherapy and surgery, have had a significant effect on her lifestyle. During chemotherapy treatment, Lynn developed neuropathy, nerve damage that causes stabbing pain, numbness, and a pins-and-needles sensation.
"It's really hard. I can't do regular things that used to be part of my daily life, like being a massage therapist. Lynn says. "I've had to adjust what I can do. Depending on how much pain I'm in that day and the effects of all my medications, I can walk and do a little exercise but now I have to take my time."
Today, Lynn feels well but still deals with side effects from the neuropathy, like coldness. "I'm a lot less mobile now. I like things that I can do sitting, like coloring or working with essential oils and mixing different kinds of oils together."
Advocating for Your Health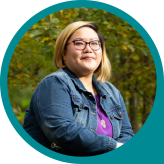 After Lynn's diagnosis, she was afraid because her father had passed away from pancreatic cancer in 2014. Lynn's parents are originally from Laos, and she was the first person in her family to be born in the US. "Because my father didn't know English, one of our family members always went to the hospital with him," Lynn says. "He couldn't advocate for himself. When he was hurting, we had to figure out for him that something wasn't right."
As a younger adult suffering from persistent, unexplained symptoms before her eventual diagnosis, Lynn quickly became an advocate for her health and pushed to find answers. "I would have been diagnosed with stage four cancer instead of stage two if I hadn't kept pushing," Lynn says. "It's important that everyone, especially young people, not give up if they know something is wrong. Because if you don't, who will advocate for your health except yourself?"
Lynn is proud to share her cancer story in hopes that it will inspire another young person to get screened and pay attention to their body. "I want to help spread awareness of this disease, because the more people who are aware, the better chance they have to catch cancer early."
Colon Cancer in Younger Adults

Colorectal cancer, which includes cancers of the colon and rectum, is extremely common in the US and diagnoses have been rising in younger adults. "Black Panther" star Chadwick Boseman's death last year at age 43 brought awareness to colon cancer risk in younger adults, typically thought of as an "older person's disease."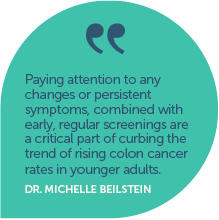 According to the National Cancer Institute, the rate of colorectal cancer has more than doubled among adults younger than 50 since the 1990s. "While we don't yet know what is causing the rise of colon cancer in patients younger than 50, we do know that screening programs that have been dedicated to those over 50 have led to a decrease of colon cancer in those patients," says Dr. Beilstein. The US Preventive Services Task Force recently lowered the recommended screening age for colorectal cancer for average-risk individuals from age 50 to 45.
For those younger than 45 and with no family history of cancer, it's important to be aware of the early warning signs of colon cancer. Younger adults are often diagnosed with late-stage colorectal cancer because they either experience no early symptoms or think it's something less serious. Common symptoms include abdominal pain, blood in the stool, constipation, diarrhea, decreased appetite, and unexplained weight loss.
"Observing your stool, paying attention to any changes or persistent symptoms, combined with early, regular screenings are a critical part of curbing the trend of rising colon cancer rates in younger adults," says Dr. Beilstein.
Click here to learn more about colonoscopy and colon cancer screening.