New recommendation is a significant step in colorectal cancer prevention
The US Preventive Services Task Force (USPSTF) — the nation's leading panel for medical guidance — has joined the American Cancer Society in considering a draft recommendation for lowering the screening age for colorectal cancer to 45 for all average-risk individuals. Previously, it was recommended to start screening at age 50.
The draft recommendation is based on data suggesting colorectal cancer diagnoses are rising among younger adults. Because early screenings are a critical part of preventing more people from dying from colorectal cancer, all adults are now recommended to begin screening starting at age 45.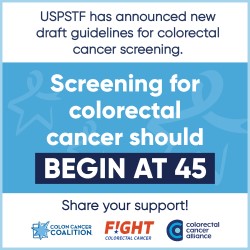 This screening recommendation is still a draft. The USPSTF will hold a one-month public comment period ahead of finalizing the recommendation next year. Insurance will not cover the change in guidelines until this is officially determined, but the USPSTF states that the majority of health insurance carriers in the US will follow the USPSTF recommendation once finalized.
The Oregon Clinic strongly supports this draft recommendation and recognizes it as a significant step forward in our mission of colorectal cancer prevention.
This news is a reminder for all patients of the importance of getting regular colonoscopies and screenings in general. Click here for more information about colonoscopy and colon cancer screening.