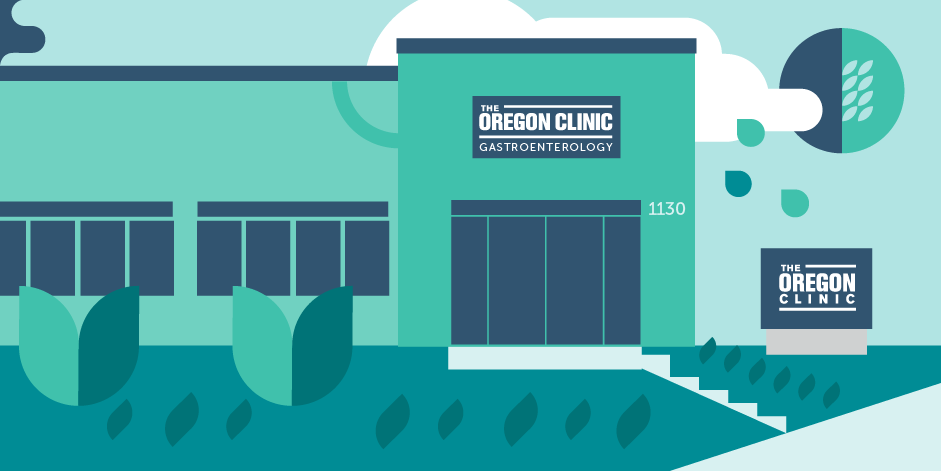 Second Oregon City gastroenterology site now open
Portland, OR – July 19, 2023 – The Oregon Clinic's (TOC) gastroenterology services are expanding in Oregon City with the opening of a new endoscopy center this month. TOC's newest location, "The Oregon Clinic Gastroenterology South Endoscopy Center – Oregon City," specifically offers endoscopy services and colonoscopy procedures at a convenient new location, just minutes from TOC's existing Oregon City site. The new location welcomed its first patients this July.
"We've been in Oregon City for nearly 30 years, and the demand for endoscopy services in the Clackamas County area has really increased," explained Dr. Paul Anderson, Gastroenterologist at The Oregon Clinic Gastroenterology South. "Our one-room endoscopy center nearby just could not keep up with what our patients needed. Opening this specialized procedure center will allow us to get more patients in for the services they need, on a faster timeline, and create space for more providers to work."
The new endoscopy center is just minutes away (less than 2 miles) from TOC's existing Oregon City GI offices in the Willamette Falls Medical Plaza. Having a specialized center for endoscopy and colonoscopy procedures will enable TOC to see more patients in Clackamas County overall. The site will eventually utilize three procedure rooms, compared to the old site's single room. Moving procedures into the new center also frees up exam space to see additional patients for other services at the existing Oregon City location. Clinic visits, consultations, and exams will continue to be provided at TOC's Oregon City offices on Division Street, with procedures conducted at the new expansion facility.
TOC's new endoscopy center will be staffed by The Oregon Clinic's Gastroenterology South physicians from the nearby Oregon City location, including:
Dr. Paul Anderson
Dr. Brian Applebaum
Dr. Mark Cahill
Dr. Michael Chang
Dr. Ryan Childers
Dr. Justine Hum
Dr. Karl Kim
Dr. Monina Pascua
Dr. Zibing Woodward
The Oregon Clinic has already hired several new employees for the site, including office staff, nurses and techs, with plans to add more positions in the near future.
The new location is located at 1130 Molalla Ave in Oregon City, and will see patients Monday through Friday, 6:15 am – 5:00 pm. Patients wishing to be seen at TOC's new Oregon City endoscopy center can call 503-692-3750 to schedule an appointment.
###
About The Oregon Clinic:
The Oregon Clinic is the largest private specialty physician practice in Oregon. Nearly 300 physicians and advanced practice providers provide respectful, compassionate care in more than 30 specialty areas, resulting in more than 550,000 patient visits each year. Founded in Portland in 1994, The Oregon Clinic is committed to delivering the highest quality patient care, practicing evidence-based medicine, and providing leadership for the healthcare community. We collaborate with primary care physicians and use a team approach to address health conditions at more than 60 specialty clinic locations across northwest Oregon and southwest Washington. Call 503-935-8000 or visit www.oregonclinic.com for more information.