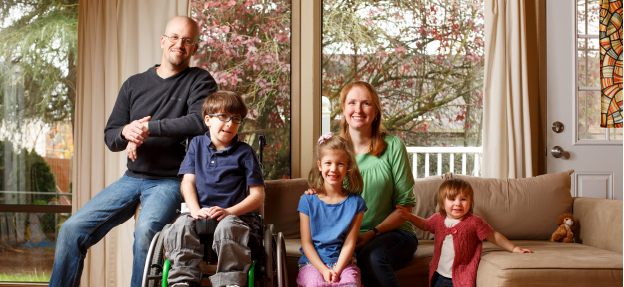 In his early thirties, 39-year-old father of three Thomas Slawson started running in an effort to get into better shape and to spend more time with his wife. But he noticed he felt heartburn every time he ran. The heartburn became so intense and frequent that he had to keep antacids in his pocket every time he went for a run.
Thomas was diagnosed with a condition known as gastroesophageal reflux disease (GERD). It is estimated that over 7 million adults in the United States experience symptoms of GERD each year.
"At the time, I really didn't think anything of it," Thomas said. "It's just reflux – everybody has it – and I went about my life."
Over time, Thomas' symptoms began to worsen. In addition to experiencing acid reflux, he also experienced a choking feeling at night. He sometimes woke up in the middle of the night, gasping for air. During the day, he was constantly clearing his throat.
Lifestyle Changes
Thomas was already active, but he made other lifestyle changes upon recommendation by his primary doctor. He tried to sleep sitting up at night and he ate a low-fat, low-acid diet. But his diet changes had unintended consequences on his health.
"My weight dropped significantly," Thomas said. "Some people may think 'that's a great thing,' but actually I had gotten quite low in my weight, at an unhealthy level."
His primary doctor referred him to Dr. Jeremy Holden at The Oregon Clinic Gastroenterology – East. Together, they determined that proton pump inhibitors (PPIs) would be the next appropriate treatment option.
"PPIs work by preventing the cells in the stomach from creating too much acid," Dr. Holden said.
Despite the medication use, Thomas' symptoms persisted. His condition began to take a toll on his emotional health as well.
"Eating out and going over to people's houses was stressful," Thomas said. "It was difficult just to find something to eat. It caused me a lot of anxiety and depression."
Since lifestyle changes and medication use were not successful for Thomas, he decided to explore surgical options. Dr. Holden referred him to Dr. Christy Dunst at The Oregon Clinic Gastrointestinal & Minimally Invasive Surgery.
"Many GERD patients are not sufficiently treated with medical therapy alone, or have growing concerns about long-term medication," Dr. Dunst said. "As leaders in the treatment for GERD, we offer comprehensive evaluation to determine an appropriate treatment plan."
Laparoscopic Fundoplication
Laparoscopic fundoplication has been the standard surgical treatment for GERD, with an over 90% success rate. With this treatment, the top of the stomach is wrapped around the esophagus to create a stronger antireflux valve.
"Despite the fact that a majority of patients do well with fundoplication, the potential for side effects remains a concern for some patients," Dr. Dunst said.
An innovative alternative to laparoscopic fundoplication is known as the LINX device. A tiny band of interlinked magnetic beads is implanted around the lower part of the esophagus.
"The device is designed so that the magnetic bond is temporarily broken when a patient swallows food," Dr. Dunst said. "Unlike fundoplication, it doesn't require changing the natural anatomy of the stomach."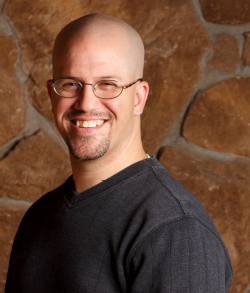 Dr. Dunst and Thomas determined that the LINX device would be an appropriate treatment for Thomas and his surgery was scheduled. Using minimally invasive surgical techniques, the LINX device was placed while Thomas was under general anesthesia during a 45-minute procedure.
"The surgery was actually quite easy," Thomas said. "I was asleep, of course, but my wife told me that things went very smoothly."
A week after the surgery, Thomas was able to enjoy his first holiday meal in several years. After a few months of recovery, his symptoms completely disappeared.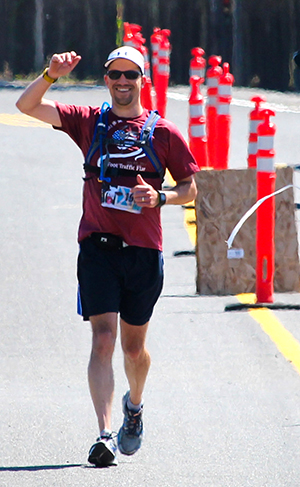 Thomas has now had his LINX device for over three years. He continues to be free of reflux symptoms and he no longer has to sleep sitting up or eat a low-fat, low-acid diet.
"I'm eating what I want and not having any reflux," Thomas said. "I would do it all over again – recovery period and everything. It has been a significant improvement in my quality of life. I don't have reflux anymore. I'm very thankful for the LINX device."
He's now even able to run without carrying antacids in his pocket. Last summer, he was able to run his first marathon.
"It was my first full marathon, and one that I don't think I would have been able to do with reflux," Thomas said.
Learn more about our Gastroenterologists:
Learn more about our Esophageal & Foregut Surgeons: