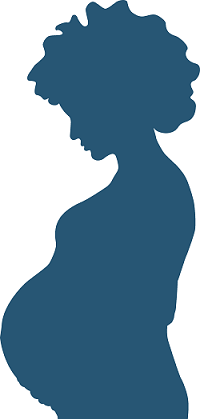 Dr. Kimberlynn Heller
believes that
Aisha's story
is important to tell because of how Black women's health concerns are often ignored or overlooked before, during, and after pregnancy. Women of color face higher rates of maternal mortality, including life-threatening complications during delivery and postpartum recovery.
"As a Black female physician, I'm aware of these issues because I've had this experience myself as a patient. I want to make sure physicians understand the impact of making sure their patient knows you're listening to them and hearing their fears and concerns," she says. "The disparity in the delivery of healthcare is an especially important conversation to have here in Oregon, where the communities of color are often overlooked."
"The former president of the American Congress of Obstetrics and Gynecology, Dr. Haywood Brown, made postpartum care reform one of his main initiatives, and he encouraged OBGYNs to become more aware of the risks during what we call the 'fourth trimester,' especially for Black women," Dr. Heller explains.
"It's critical to address implicit bias embedded in the medical system that can affect the quality of care. Physicians can participate in implicit bias training to become more culturally competent and aware of their biases. When we acknowledge that race is a risk factor in maternal mortality, especially for Black women, we can work to decrease bad outcomes and increase access to good healthcare," says Dr. Heller.