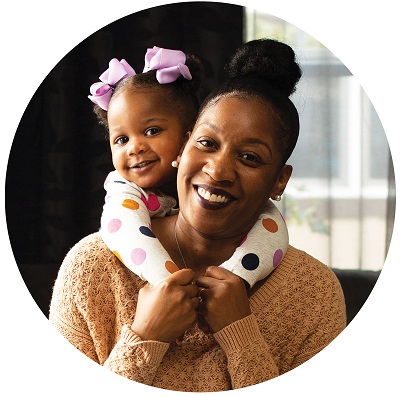 When Aisha turned 40, the last thing she expected was a baby. Already a mom of three — ages 16, 15, and 13 — Aisha thought she was finished having children. After visiting the doctor thinking her appendix had burst, she discovered that she was not only pregnant but also would have a high-risk pregnancy. Having recently moved to Oregon from Alaska, Aisha was new to Portland and didn't know where to begin to find an OBGYN. All she knew was that she needed to find someone she trusted.
Searching for the Right Doctor
After reading countless online reviews, Aisha stumbled upon profile videos of doctors on The Oregon Clinic Obstetrics & Gynecology website. One video featured
Dr. Kimberlynn Heller
, an OBGYN with experience in high-risk pregnancies. A pregnancy can be high-risk when there are potential complications that could affect the mother, the baby, or both. "Aisha's pregnancy was considered high-risk because of a combination of her advanced age, high blood pressure, and the fact that pregnant Black women are more likely to experience a pregnancy-related death than their white counterparts, regardless of their income or education levels," says Dr. Heller.
At her first appointment, Aisha was nervous but quickly found a partner in Dr. Heller. "I knew I wanted a provider that looked like me and could relate to me. When Dr. Heller's video popped up, I knew I had to see her," Aisha says. "I complimented her hair and then we talked about that for the first 15 minutes before I said we had to get back on track. It was love at first sight after that!"
---
"Dr. Heller was a huge advocate for me. She made sure the other doctors knew who I was as an individual patient."
Aisha's three other pregnancies had all gone smoothly, so when she was first told this pregnancy would be high-risk, she was scared. "At first I didn't want to know the sex of the baby because I didn't want to form an attachment. I was so convinced that I would have a miscarriage, I wore a pad the entire pregnancy because I wanted to be prepared when it happened." Dr. Heller worked with Aisha to not only get past the physical challenges she experienced but also the anxiety.
Because Aisha was considered a high-risk pregnancy, she was often in and out of the hospital for issues like high blood pressure. "Aisha was suffering from severe chronic hypertension that was non-responsive to medication after 20 weeks," says Dr. Heller. Aisha worked hard to balance hospital visits with taking care of her kids at home, but it was a struggle spending time away from home. "Dr. Heller insisted that I take care of myself first. One time, I was admitted to the hospital right before my daughter's birthday. I told Dr. Heller I couldn't miss that, but I knew I had to put my health and my baby first. She said she wouldn't promise anything, but she would have me home in time to have a birthday dinner with my daughter. And she did!"
Dr. Heller also coordinated care with the other advanced maternal specialist doctors who Aisha saw to make sure Aisha understood their directions and was receiving the best, safest care possible. "Dr. Heller was a huge advocate for me. She made sure the other doctors knew who I was as an individual patient."
An Emotional Delivery
At 37 weeks along, Aisha went in for a regular appointment on a Friday. The nurse found an excess amount of protein in her urine and Aisha's blood pressure remained high. Aisha and Dr. Heller discussed these findings and agreed Saturday would be the big day – so Aisha returned at 5:00 AM. After waiting in labor for over 24 hours, Aisha was exhausted. That evening, Dr. Heller arrived and announced it was time to start pushing.
"I wanted to give up and was begging for a C-section at that point. But Dr. Heller yelled my name and told me to push just one more time. My boyfriend joked, 'She's the only person you would let talk to you like that. I can't even get away with that!'"
"I didn't even want to open my eyes and look at the baby because I still thought something wouldn't be right. Dr. Heller told me, 'Aisha, open your eyes and look at your baby.' She put the baby on my chest, and I opened my eyes and saw it was a baby girl. Then we all started crying – everyone in the room!"
Healthy Mom & Baby
Just one day after being discharged, Aisha was readmitted to the hospital because her postpartum high blood pressure meant she was at risk for stroke and seizure. "At first I refused to go. I had just left the hospital and had other kids at home to look after. Plus I was breastfeeding and didn't have a pump yet."
Dr. Heller convinced Aisha that going back to the hospital was the right idea to keep her safe. "There is a condition called atypical pre-eclampsia that often occurs within the first 36 hours after giving birth. It can often be fatal for new mothers because they're preoccupied with the baby and may ignore the symptoms," says Dr. Heller. "After Aisha left the hospital, she had a bad headache and wasn't feeling well, so we readmitted her to the hospital and started her on a number of anti-hypertensive medications."
Dr. Heller notified the hospital that Aisha would be coming back with the baby and arranged for her to have a private room where she could relax and bond with her new baby. "Even though her office had closed, she sat with me in the room for hours until my boyfriend could get there, holding the baby and changing diapers," Aisha says.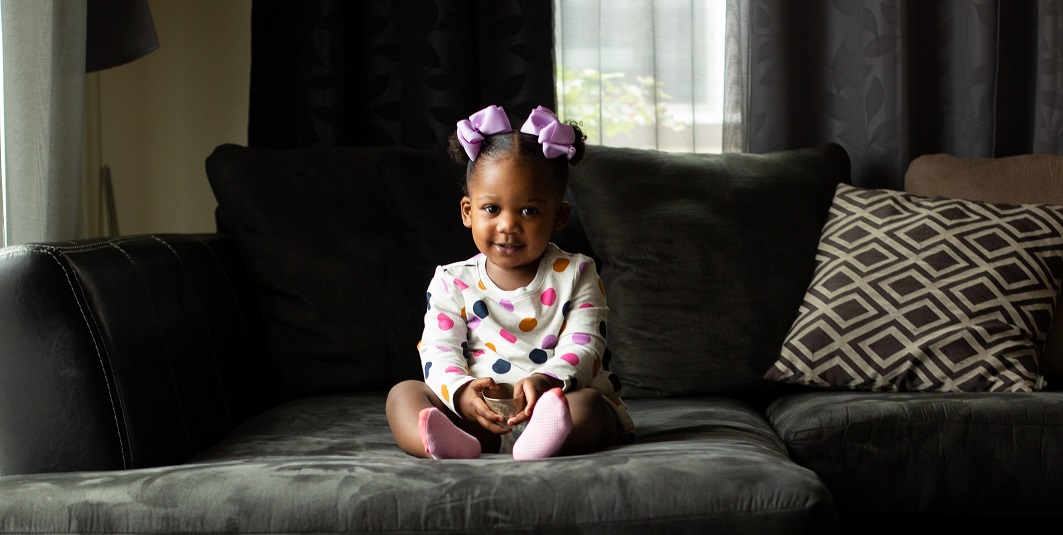 A Happy Ending
Today, Aisha and her family are all happy and healthy living in Portland. Her youngest daughter is now an energetic, lovable toddler who keeps her on her toes. She's grateful to The Oregon Clinic for being a true partner in health and having her best intentions at heart during a stressful time. "Not only did Dr. Heller make sure that I knew all the risk factors I was facing throughout my pregnancy, but she also continued to prepare me for motherhood, even during the times that I couldn't see past my tears."
"Dr. Heller always made me feel like I was her only patient. Even if it was a 5-minute appointment, it felt like it was 2 hours. The entire staff at The Oregon Clinic treated me the same way," she says. "I don't think I would've had the extra level of care I received from The Oregon Clinic anywhere else. I'm going to have to have another baby just to come back and see them!"