Dottie, a 79 year-old wife and mother, had grown accustomed to feeling fatigued all the time. Tired was her normal. In late 1999, while traveling with family, her sister mentioned that she noticed Dottie had stopped breathing dozens of times during her sleep. "I knew that wasn't normal," Dottie said. "Could this be why I'm so tired?"
After her trip, she sought out a sleep doctor who requested she complete a sleep study. Ultimately Dottie was diagnosed with sleep apnea, a disorder characterized by pauses in breathing or very shallow breaths while asleep. This may occur 30 times or more within an hour. "Every time that happens, you move out of deep sleep and into light sleep, which results in poor sleep and daytime drowsiness," said sleep study technician Kirk Leder with
The Oregon Clinic Sleep Center
. "Most people who have it don't know since it only occurs during sleep."
Dottie was given a Continuous Positive Airway Pressure (CPAP) machine, mask and accessories. A CPAP machine works by gently blowing air into the airway through a mask to help keep the airway open during sleep. "I was so overwhelmed and the mask was very uncomfortable."
She followed up with her doctor multiple times, only to find no support. "The machine wasn't working properly, so finally I just called it quits. I was done," Dottie recalled. "But if I had known how serious this was, I would have never given up on it."
Fast forward nine years. Dottie started having trouble with her back and had to manage the pain was with prescription pain medications. "Life started getting really hazy for me at this point. I was upset and crying all the time," Dottie recalled. She had trouble walking because of the pain and on top of that, she had no energy. Upon hearing about her health problems, a close friend suggested she see a doctor and get another sleep study, this time at The Oregon Clinic.
She first met with
Dr. Michael Lefor
, pulmonologist with
The Oregon Clinic Pulmonary, Critical Care & Sleep Medicine – East
. "When Dottie came to me, she had a lot going on in her life. She already knew she had sleep apnea, but I don't think she knew how much it was affecting the rest of her health and energy," Dr. Lefor said. Studies show sleep apnea is linked to heart disease, diabetes and other metabolic diseases when left untreated. Sleep apnea sufferers have five times the risk of dying from a heart problem compared to those without.
"Dr. Lefor was straight with me. He said I needed to change my meds. I needed to lose weight. I didn't want to hear it, but I finally understood how real the situation was," Dottie expressed. After a second sleep study, she received a new CPAP machine and properly fitting mask. "I was so scared it was going to be a repeat of what happened years ago," Dottie said. "But I was ready to get better…I needed to get better."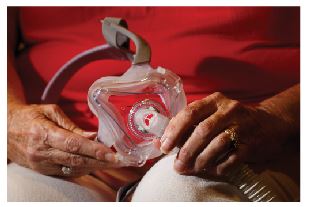 This time, her care and support didn't end with the sleep study. Dottie joined a sleep apnea support group called Better Rest is Dependent on Getting Education & Support (BRIDGES), hosted monthly by The Oregon Clinic's sleep technicians. "I finally saw that I wasn't the only one struggling with this life change," Dottie said. Her husband attended the meetings with her. "At my third meeting, someone said something that has always stuck with me: 'It's just mind over matter.' It finally clicked for me that I can get used to this. I can do this."
As she improved, she switched her care to The Oregon Clinic's
Caitlin Conrad, PA-C
, for maintenance. Caitlin got her a chin strap to further improve her comfort sleeping with her machine. "The clinic staff was always just one phone call away. Any time I had questions they were available to answer them," Dottie said. As she lost weight, Caitlin helped get her fitted with a smaller mask.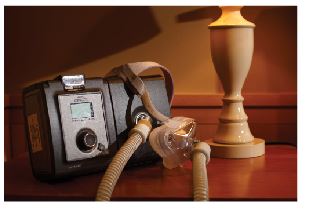 Dottie said her breathing has improved significantly and that the mask is comfortable. "I can't even nap now without the machine because it is so soothing," she said. Dottie also said she is no longer living in a haze and that her health problems and pains have reduced.
When asked what made her second experience tackling sleep apnea successful, Dottie said "The education I received made all the difference. I wonder how many people stop using their CPAP machines because they don't have support." Even though she is better now, Dottie continues to attend
BRIDGES
meetings and help others get a good night's sleep.