The Oregon Clinic, one of Oregon's largest multi-specialty, physician-owned medical clinics, has expanded its services by forming a new Obstetrics and Gynecology (OB/GYN) division. The four-physician division offers a complete spectrum of obstetrical care, with special emphasis on natural childbirth methods, and provides minimally invasive surgery options and office-based procedures. The group joined The Oregon Clinic on Aug. 1.
Members of the OB/GYN division are Clea Caldwell, DO, FACOG; Kimberlynn Heller, DO, FACOG; Jill Shaw, DO, FACOG; and Jennine Varhola, DO, FACOG.  Drs. Caldwell, Heller and Varhola all previously practiced at Portland's Gateway Women's Clinic.  Dr. Shaw has been in private practice since April 2008.
The new division of The Oregon Clinic offers a wide range of clinical and surgical services and expertise including:
Annual breast, pelvic, and pap exams
Obstetric services including full-spectrum prenatal care, delivery services, and postpartum care
In-office procedures such as LEEP, colposcopy, Essure and NovaSure
Gynecological surgery including hysterectomy, tubal ligation, and exploratory surgeries
Surgical and non-surgical treatment for incontinence
The outpatient offices of the new division are located in the Providence Portland Medical Plaza, 5050 N.E. Hoyt St., Suite 421 [now located in Suite 362, operating as Women's Health Today], which may be reached at (503) 935-8445 [now (503) 239-6800. All physicians of the division maintain privileges at Adventist Medical Center and Providence Portland Medical Center.
"We are pleased to expand the services of The Oregon Clinic with this highly-respected, experienced, and skilled group of physicians," said Craig Fausel, MD, President & CEO of The Oregon Clinic. "I'm confident that our new OB/GYN division will quickly become a leader in providing women's services in the community."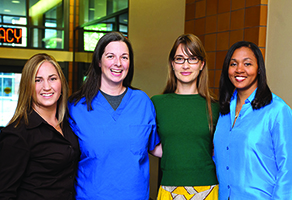 All four physicians are board certified by the American Board of Obstetrics and Gynecology and are fellows of the American College of Obstetricians and Gynecologists. Dr. Caldwell completed her residency at St. Francis Hospital and Medical Center in Hartford, Conn., after earning her doctor of osteopathy (DO) degree from Touro University College of Osteopathic Medicine in Vallejo, Calif.  She offers full-spectrum obstetrical care with an emphasis on natural childbirth methods.  Dr. Caldwell is a local innovator and thought leader in robotic gynecologic surgery and performs robotic Total Laparoscopic Hysterectomy, supracervical hysterectomy, myomectomy and sacrocolpopexy with emphasis in three-incision technique, the large uterus and the frozen pelvis.
Dr. Heller received her DO degree from Michigan State University, College of Osteopathic Medicine and completed her medical residency at the University of Illinois in Peoria. She enjoys helping patients achieve whole body health and natural birthing methods and has a strong interest in maternal fetal medicine.
Dr. Shaw received her DO degree from Ohio University College of Osteopathic Medicine. She completed OB/GYN residency training at Akron General Medical Center and an internship at Firelands Regional Healthy System in Sandusky, Ohio. She offers minimally invasive surgical solutions and da Vinci® laparoscopic hysterectomies and other services in obstetrics and gynecology.
Dr. Varhola completed her OB/GYN residency at St. Francis Hospital and Medical Center in Hartford, Conn., after receiving her DO degree from the New York College of Osteopathic Medicine. In addition to board certification, she is certified by the American Institute of Ultrasound in Medicine. Her expertise includes colposcopies, minimally invasive surgeries and da Vinci® robotic procedures.
"We are truly honored to join the highly-talented and passionate group of specialist physicians at The Oregon Clinic," said Dr. Caldwell.  "We have tremendous regard for The Oregon Clinic and we are so pleased to announce our collaboration. We look forward to providing the highest quality and comprehensive care for our patients at our new office location."