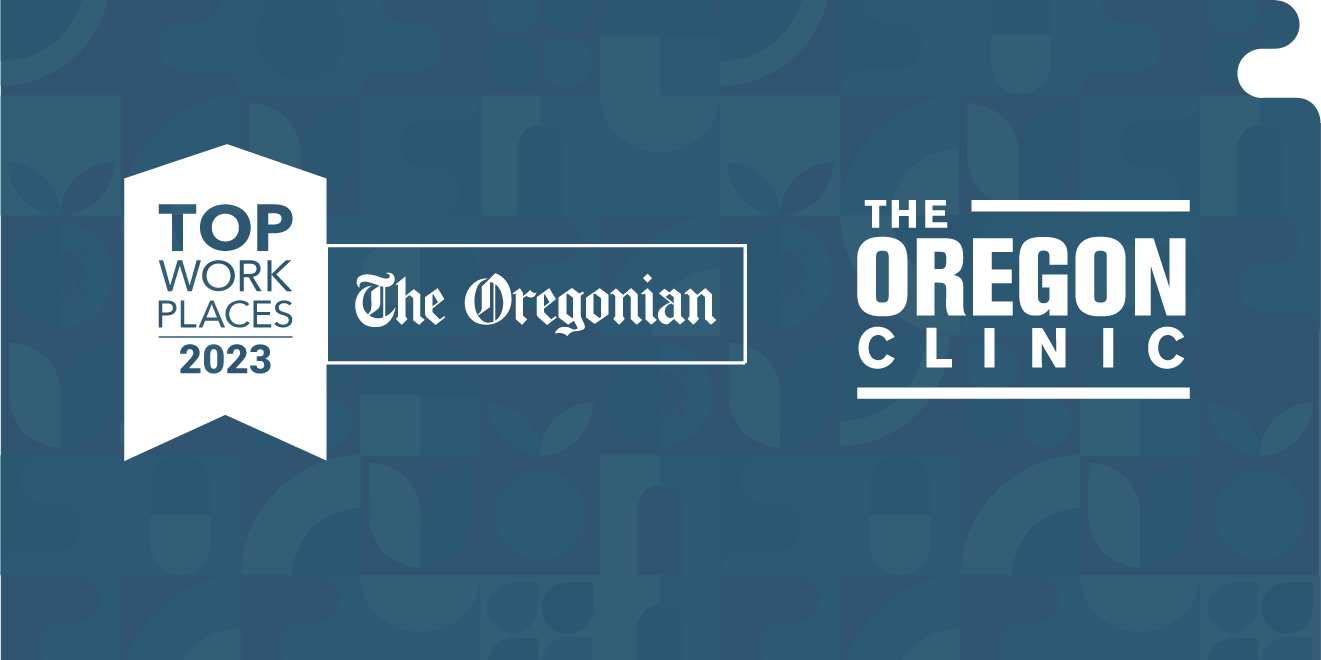 The Oregon Clinic (TOC) was named Oregon's 5th Top Workplace among large employers by The Oregonian. The announcement came with the results of The Oregonian's annual survey, which polls thousands of employees statewide from participating employers. This is the ninth time The Oregon Clinic has participated in the survey, and each time The Oregon Clinic has ranked among the top 10 best places to work.
"Providing top-quality patient care is a priority for The Oregon Clinic, and our employees really take pride in that mission," said Dr. Richard Jamison, President of The Oregon Clinic. "It is gratifying to see that so many of our employees find their work meaningful."
The Oregonian partners with research firm Energage to conduct a scientific employee survey process to determine the region's Top Workplace rankings each year. This year, 2,995 organizations in Oregon and SW Washington were invited to participate and be assessed. Employees at participating workplaces completed a survey about workplace culture, including employee engagement, leadership, alignment with company values, effectiveness, encouraging new ideas, benefits and more. After survey results were tabulated, participating employers earned Top Workplace recognition if their score exceeded national benchmarks.
More than 1,100 of The Oregon Clinic's employees – representing 81% of TOC's workforce – participated this year's assessment, sharing their opinions in an anonymous survey. Employees felt genuinely appreciated and included at The Oregon Clinic and believed that different ideas and points of view were valued. The vast majority of employees felt like their job made them part of something meaningful.
"We've worked hard to create a culture where employee opinions are valued, and where employees feel supported in their jobs," explained Tom Sanchez, CEO of The Oregon Clinic. "Whether it be providing opportunities for advancement, or flexibility for work-life balance, we try to meet the needs of our employees, and seeing their recognition of that in this survey is really inspiring."
Many TOC employees cited the organization's commitment to high-quality patient care as one of the reasons they love their job:
"TOC provides me with everything that I need to care for my patients at a very high level. I do not feel like things get missed, staff are prompt at their jobs, very professional yet remain cheerful and seem happy when they interact with patients."
"I feel that I am part of something very important – delivering the best healthcare to our community."
"I work with truly wonderful people who care about improving the lives of patients and our communities."
A supportive work atmosphere, culture of respect, and feeling appreciated were also frequently listed as reasons employees loved their job.
"I can take care of my patients in positive work atmosphere where my voice is heard, and I am supported with a work schedule that fits best for my family."
"I feel that I am respected here and given many opportunities to learn and grow that I would not find in most other places. The management here is amazing and they are all so kind and understanding, and very encouraging as well."
"I feel like we are one big team from floor staff to management. It is truly an enjoyable place to work."
As the largest physician-owned multi-specialty medical practice in the region, The Oregon Clinic works to cultivate a culture that focuses on exceptional patient experiences and a supportive workplace for employees. The Oregon Clinic's more than 1,400 employees include nearly 300 physicians and advance practice providers, who provide expert care at more than 550,000 patient visits each year.
To see the full list of award recipients, visit www.oregonlive.com/topworkplaces.
###
About The Oregon Clinic:
The Oregon Clinic is the largest private specialty physician practice in Oregon. Nearly 300 physicians and advanced practice providers provide respectful, compassionate care in more than 30 specialty areas, resulting in more than 550,000 patient visits each year. Founded in Portland in 1994, The Oregon Clinic is committed to delivering the highest quality patient care, practicing evidence-based medicine, and providing leadership for the healthcare community. We collaborate with primary care physicians and use a team approach to address health conditions at almost 60 specialty clinic locations across northwest Oregon and southwest Washington. Call 503-935-8000 or visit www.oregonclinic.com for more information.