On 6/14/2021, Philips issued a recall notice for some of their positive airway pressure (PAP) devices due to potential health risks from the polyester-based polyurethane foam used in their devices. Specifically, the foam may degrade into particles that may be inhaled by the user. Reportedly, degradation may be worsened by unapproved cleaning methods (e.g. ozone). According to Philips, this issue has affected 0.03% of patients on their CPAP machines.
What are the risks?
The exact risks are unclear, but we hope that more information ay be available in the near future. The potential risks of degraded foam exposure are listed on the manufacturer's website:
Short term: Cough, shortness of breath, nasal secretion, chest pain, and sinus headaches.
Long term: Unknown, although foam is noted to off-gas a chemical that may cause cancer.
Philips reports that, "the potential risks of particulate exposure include headache, irritation, inflammation, respiratory issues and possible toxic and carcinogenic effects."
Philips reports that the foam-related complaint rate in 2020 was low (0.03%).
Philips reports that, "the potential risks of chemical exposure due to off-gassing include headache, irritation, hypersensitivity, nausea/vomiting, and possible toxic and carcinogenic effect."
Philips reports that it "has received no reports regarding patient impact related to chemical emissions."
Philips has not given any indication on the magnitude or certainty of the risks. Without this crucial data, it is impossible to quantify risk of past or ongoing use.
Thus far, this has been a voluntary recall and applies ONLY to the US. These devices have not been recalled in Europe or elsewhere.
Appropriate therapeutic decisions need to balance risks of continuing therapy versus temporarily discontinuing the devices while awaiting a reasonable alternative.
Untreated severe sleep apnea can cause sleepiness while driving and motor vehicle accidents. It can cause heart arrhythmia in patients with known heart rhythm problems and coronary artery disease. It can make surgeries unsafe. Inhaling foam particles may increase long term health risk.
The Oregon Clinic Sleep Therapy Services Recommendations:
Note: This is our opinion and includes the recommendations of the American Thoracic Society released on 6/17/2021 and the American Academy of Sleep Medicine released on 6/18/2021. Recommendations likely will change as we review and obtain more information.
If you are using life-sustaining mechanical ventilator devices, we would recommend that you do not stop or alter prescribed therapy until after talking to your physician.
If you work in safety-critical positions (e.g. professional drivers, pilots, heavy equipment operators), we would recommend that you do not stop your prescribed therapy until first discussing with your provider.
If you have severe sleep apnea, severe breathing difficulties, or were very sleepy during the daytime before treatment, have significant lung disease, heart disease or neurologic conditions, we would recommend that you do not stop your prescribed therapy until first discussing with your provider.
If you have mild – moderate sleep apnea without excessive daytime sleepiness, then STOP using your device and call your provider.
STOP using any ozone-based PAP (CPAP, BPAP, BPAP ASV, BPAP AVAPS) cleaner. This includes the SoClean device among others. Philips has stated that ozone-related products should not be used to clean PAP equipment. Patients should follow the cleaning methods described in their PAP device's "Instructions for Use." (See the February 2020 FDA safety communication for more details).
We urge all patients to use the Philips registration process to look up their device serial number and begin a claim if their device is part of the recall. Philips also has provided a toll-free phone number, 877-907-7508, with a Spanish-language option available.
If in doubt, call your provider.
We will be updating these recommendations as the situation warrants. The page was last updated on 6/23/2021.
Recalled Devices: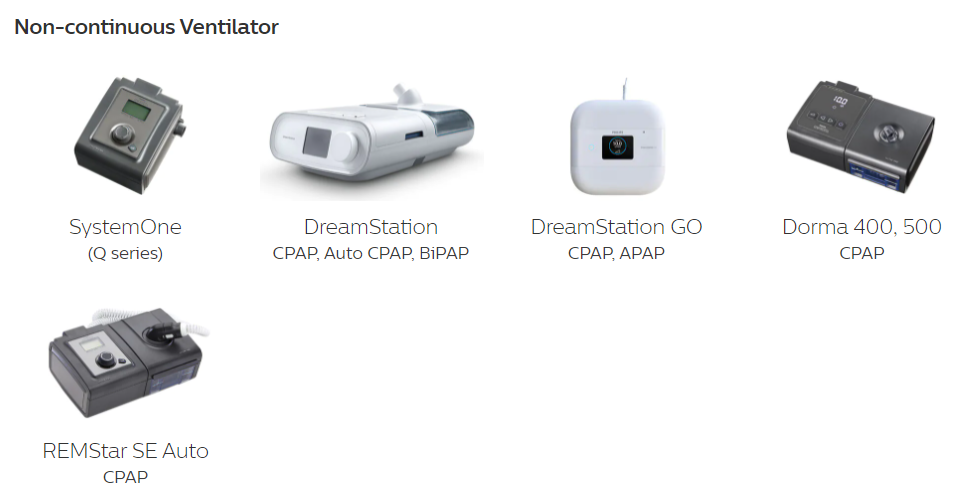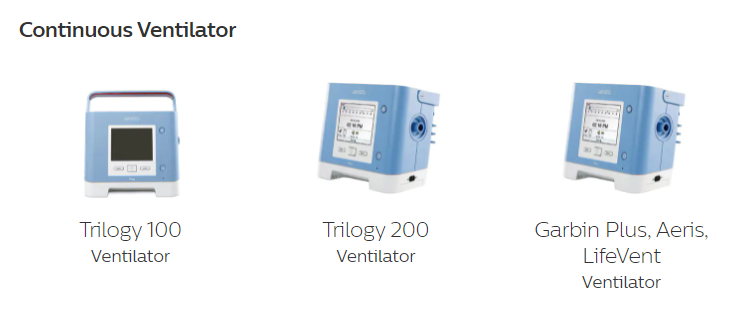 *** This recall does not affect the Dreamstation 2 devices released in 2021.***