If you needed to have a tumor removed, and the fate of your hearing and use of your facial muscles was at risk, you would want an experienced doctor doing the work. Even better, you would want an expert team with extensive experience in the specific type of tumor you have. That's why Dr. Stephen Bader, Dr. Pankaj Gore, and Dr. Frank Warren have created The Oregon Acoustic Neuroma Center (OANC) at The Oregon Clinic.
"By working together and focusing on this specific condition in cooperation, we're able to learn from each other and constantly improve our patient care," explained Dr. Gore. "Coming from different specialties, each of us brings a different viewpoint to treating acoustic neuroma. That's where our patients really benefit."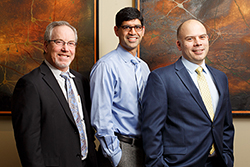 "Our goal is to preserve facial nerve function and hearing whenever possible," explained Dr. Warren. "We use the most up-to-date and comprehensive treatments available, depending on each patient's individual situation and needs." Treatments performed by OANC might include surgical approaches, like hearing preservation surgery, or Gamma Knife Perfexion for radiosurgical treatment.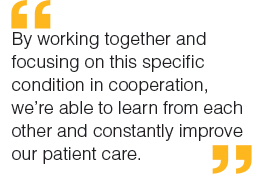 Dr. Bader, a radiation oncologist; Dr. Gore, a neurosurgeon; and Dr. Warren, a neurotologist, have all treated acoustic neuroma for years. Together, they have experience in more than 600 cases, forming the most experienced team in the treatment of acoustic neuroma in Oregon, and one of the most experienced teams in the Pacific Northwest.
"We see patients from throughout Oregon and beyond, including Northern California, Canada, and even one as far as Guatemala," said Dr. Bader. "Because many patients are traveling a long distance to see us, we offer a fast-track option so they can schedule multiple appointments in the same day."
Acoustic Neuromas are rare, non-cancerous tumors that form on the nerve connecting the inner ear to the brain – the nerve responsible for hearing and balance control. The Acoustic Neuroma Association estimates that they occur in 3.5 out of every 100,000 people, and more than 5,000 are diagnosed in the United States each year. Because they are rare, finding a doctor with extensive experience in this niche area can be difficult.
Patients seeking treatment for acoustic neuroma should call 503-935-8541 or visit https://www.oregonclinic.com/oregon-acoustic-neuroma-center for more information.