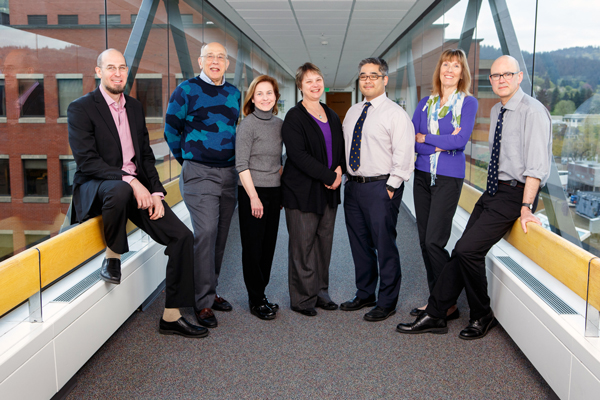 After 24 years of practice, our neurology group has left The Oregon Clinic. Dr. Richard Rosenbaum, Dr. Andrew Rose-Innes, Dr. Pius Wei, Dr. Keiran Tuck and Kathy Dodson, FNP will continue seeing patients as a part of the Legacy Medical Group. Dr. Catherine Ellison has retired after 30 years of practice. Janis Denning, PA-C has moved to Pulmonology at The Oregon Clinic and is no longer seeing neurology patients. Drs. Rose-Innes, Tuck and Wei are available to see patients of Dr. Ellison and Janis Denning. The group's last day as a part of The Oregon Clinic was Friday, March 2, 2018.
If you are a current patient, please review the information below.
What stays the same?
Our office, now called Legacy Medical Group-Neurology, will be located at the same address on the Good Samaritan campus at 1040 NW 22nd, Suite 420.
You will still reach the office at the same phone numbers. Main Office: (503) 963-3100.
There will be familiar faces at the clinic as many of our staff are also transitioning to work with Legacy.
What may be different?
Legacy Medical Group-Neurology may no longer be covered providers on your insurance plan. This means that your insurance may not cover payment for our services. It is important that you check with your insurance company to determine if you are able to continue care with us.
If your coverage requires you to change to a new provider, The Oregon Clinic will be happy to assist you in getting your records transferred to your new neurologist. You can request transfer of your medical records by contacting the clinic's Release of Information team online at oregonclinic.com/roi or by calling (503) 935-8383.