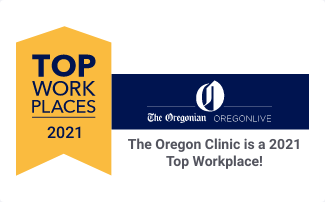 The Oregon Clinic was named Oregon's sixth Top Workplace among large employers by The Oregonian. The announcement came with the results of The Oregonian's annual survey, which polls thousands of employees statewide from participating employers. The Oregon Clinic was the highest-ranking healthcare provider on the list. This is the seventh time The Oregon Clinic has participated in the survey, and each time The Oregon Clinic has ranked among the top 10 best places to work.
"It has been a really challenging year for healthcare workers, so it was heartwarming to see how much our employees respected the way we've handled this crisis," said Tom Sanchez, CEO of The Oregon Clinic. "We worked hard to support our employees and find innovative ways to continue to serve our patients, and it was encouraging to see that those efforts were appreciated by so many of our employees."
The Oregonian partners with research firm Energage to conduct a scientific employee survey process to determine the region's Top Workplace rankings each year. This year, 2,116 employers in Oregon and SW Washington were invited to participate and be assessed through employee surveys. Employees at participating workplaces completed surveys about workplace culture, including employee engagement, leadership, alignment with company values, effectiveness, encouraging new ideas, benefits and more, resulting in the ranking of the top workplaces.
75% of employees at The Oregon Clinic participated and shared their opinions via an anonymous survey in 2021. Of those, 79% of employees said they'd highly recommend working at The Oregon Clinic to others. When asked what they loved about their job, many employees highlighted the flexibility to use remote work to balance work and personal life; the positive and hardworking culture; and the high quality of patient care provided. Employees appreciated the organization's efforts to support mental health and wellness, and often described their coworkers as "like a family".
"The management and the team are understanding and take time to care for every individual need," described one employee. "TOC makes employees feel like family members and not just a number."
"I love our family environment. We care about our patients. And we care about each other as a team," said another employee.
Employees also felt positively about how TOC has responded during the COVID-19 pandemic. Quickly pivoting to virtual visits, adjusting constantly to changing safety protocols, providing employees with frequent pandemic updates, and hosting community vaccine clinics were all examples shared by employees that showed The Oregon Clinic's strong values.
"[TOC worked] to set up a health community vaccine clinic to help get employees and other clinic's employees vaccinated. TOC stepped up to help the community by finding a way to make the idea work in reality and expanding to other healthcare providers showing real integrity and innovation," shared an employee.
Overall, employees felt valued and appreciated at work, which contributed to their overall job satisfaction.
"I feel supported by my co-workers as well as management. The atmosphere is very uplifting and team-oriented. Training is hands on and thorough, and questions are encouraged. Patient care and safety is the top priority and it shows."
"I love the work I do and the people I get to do it with. I feel like I am part of something larger that serves our community by providing the best care possible for our patients."
"The patient centered culture of TOC is motivating to me. I am in healthcare because I care about the patients. It is awesome to be part of a team that feels the same."
As the largest physician-owned multi-specialty medical practice in the region, The Oregon Clinic works to cultivate a culture that focuses on exceptional patient experiences and a supportive workplace for employees. The Oregon Clinic's more than 1,250 employees include more than 270 providers, who provide expert care at more than 500,000 patient visits each year.