The Oregon Clinic was named Oregon's sixth best Top Workplace among large companies Wednesday evening at an event held by The Oregonian in Portland. This is the sixth consecutive year The Oregon Clinic has been recognized as one of the top workplaces in Oregon and southwest Washington. The Oregon Clinic was the highest ranking health care provider on the list of large companies.
"Our employees are incredibly committed to our patients and their coworkers, and it shows," said Dr. Richard Jamison, President of The Oregon Clinic. "We try to do our very best to support our employees because we know that's what makes this organization strong."
The Oregonian partners with research firm Energage to conduct a scientific employee survey process to determine the region's Top Workplace rankings each year. 1,419 employers in the region were invited to participate and be assessed through employee surveys. Employees at participating workplaces completed surveys about workplace culture, including employee engagement, leadership, alignment with company values, effectiveness, encouraging new ideas, training, benefits and more, resulting in the ranking of the top workplaces.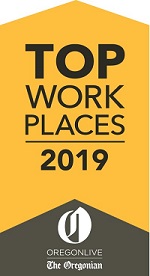 79% of employees at The Oregon Clinic shared their opinions via the anonymous survey. Of those, 80% of employees said they'd highly recommend working at The Oregon Clinic to others. Employees indicated they felt motivated to give their very best at work, enjoyed flexibility to balance their work and personal life, and appreciated the benefits package.
Employees at The Oregon Clinic responded to a survey and provided feedback on a variety of topics.
"I think the community sees The Oregon Clinic as a leader in healthcare," one employee responded. "I am proud to tell people where I work, and I almost always hear a positive story or response about our company or one of the providers. I'm glad to be a part of such an influential company."
"I love the environment at The Oregon Clinic. I've never worked at a clinic that tries so hard to create a kind, helpful and collaborative environment. I feel like I work among some of the best people in healthcare!" described another employee.
Another employee shared, "I have never felt so passionate about my work until coming here. I feel respected here and truly feel like a family member. I wish people could see and understand how amazing this work place is."
As the largest physician-owned multi-specialty medical practice in the region, The Oregon Clinic works to cultivate a culture that focuses on exceptional patient experiences and a supportive workplace for employees. The Oregon Clinic's more than 1,190 employees include more than 270 providers, who provide expert care at more than 550,000 patient visits in our region each year.
To see the full list of award recipients, visit www.oregonlive.com.