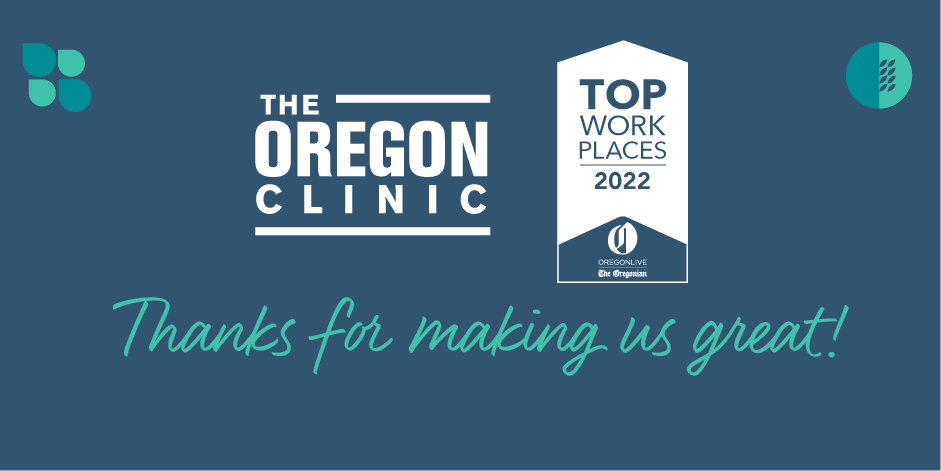 The Oregon Clinic was named Oregon's seventh Top Workplace among large employers by The Oregonian. The announcement came with the results of The Oregonian's annual survey, which polls thousands of employees statewide from participating employers. The Oregon Clinic was the highest-ranking healthcare provider on the list. This is the eighth time The Oregon Clinic has participated in the survey, and each time The Oregon Clinic has ranked among the top 10 best places to work.
"The pandemic has made working conditions more complicated for healthcare workers, and we've tried our best to listen to the needs of our employees," said Tom Sanchez, CEO of The Oregon Clinic. "It is gratifying to read the positive feedback and see that they are feeling supported."
The Oregonian partners with research firm Energage to conduct a scientific employee survey process to determine the region's Top Workplace rankings each year. This year, 3,022 organizations in Oregon and SW Washington were invited to participate and be assessed. Employees at participating workplaces completed surveys about workplace culture, including employee engagement, leadership, alignment with company values, effectiveness, encouraging new ideas, benefits and more, resulting in the ranking of the region's top workplaces.
77% of employees at The Oregon Clinic participated this year's assessment, sharing their opinions in an anonymous survey – almost 1,000 individuals. Employees felt strongly that The Oregon Clinic provides excellent patient care and operates with strong values. Employees indicated they felt highly appreciated for their work at The Oregon Clinic, and that their job at The Oregon Clinic makes them feel a part of something meaningful.
"So many of our employees highlighted our commitment to quality patient care, which all of us at The Oregon Clinic take pride in," shared Dr. Richard Jamison, President of The Oregon Clinic. "At the end of the day, our mission is to provide the highest quality specialty care. Seeing that our employees truly believe in this mission and work to make it happen every day is inspiring."
A supportive, positive work environment was touted by many employees. Employees appreciated that the organization prioritizes patient needs, is committed to diversity and inclusion, and that groups are committed to providing excellence in care for everyone.
"I can work at the top of my profession in a supportive, committed environment surrounded by people I respect and enjoy working with."
"I love that TOC has an inclusive culture and we care about providing the best care for everyone, without judgement. I love seeing our wonderful diverse community reflected in the people who work for TOC."
"I feel trusted and supported in my role. I am treated as a human with needs and not just a puzzle piece."
"The honest commitment to patient care makes me so proud to be a member of TOC."
Flexible schedules, remote work, and achievable work-life balance were also qualities TOC's employees praised this year.
"I love being able to work remotely and have the flexibility that comes with that. It allows me to work on projects without being interrupted and to do meaningful work. I also work for a great boss and physicians who appreciate the work I do."
As the largest physician-owned multi-specialty medical practice in the region, The Oregon Clinic works to cultivate a culture that focuses on exceptional patient experiences and a supportive workplace for employees. The Oregon Clinic's almost 1,300 employees include nearly 300 physicians and advance practice providers, who provide expert care at more than 500,000 patient visits each year.
To see the full list of award recipients, visit www.oregonlive.com/topworkplaces.