The Oregon Clinic Gastroenterology – South has been awarded a three-year certificate of recognition for promoting quality in endoscopy by The American Society for Gastrointestinal Endoscopy (ASGE), a leading gastrointestinal medical society. The ASGE program honors endoscopy units that have demonstrated a commitment to patient safety and quality as evidenced by meeting the program's rigorous criteria, which includes following the ASGE guidelines on privileging, quality assurance, endoscope reprocessing, CDC infection control guidelines, and ensuring endoscopy staff competency. A total of 450 endoscopy units across the nation have been granted the recognition, and The Oregon Clinic Gastroenterology – South is one of only three in the Portland area.
"We went over and above to meet the requirements for ASGE recognition and I'm proud of our team," said Gail Bacon, Ambulatory Surgery Center Manager for The Oregon Clinic Gastroenterology – South. "This certificate is another testament to the quality patient care we strive for at The Oregon Clinic."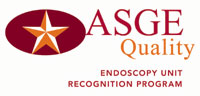 To be recognized by ASGE, an endoscopy unit, through a peer-reviewed application process, must attest to the continued competence of all staff relative to their roles, demonstrate the adoption of unit policies specific to ongoing assessment of performance relative to key quality indicators, and attest that the unit has an established infrastructure and personnel dedicated to infection control and prevention.
"We are proud to acknowledge these endoscopy units through our Endoscopy Unit Recognition Program for their commitment to promoting the highest standards of safety and quality," said Jonathan Cohen, MD, FASGE, chair, ASGE Quality Assurance in Endoscopy Committee. "By ensuring infection control principles are adhered to, continually assessing the competency of staff, and monitoring patient satisfaction, ASGE-recognized units contribute to the public's confidence in endoscopy, a life-saving technology."
The Oregon Clinic Gastroenterology – South has offices in Oregon City, Tualatin, and Newberg. Patients and referring physicians can call 503-692-3750 or go online to request appointments at any of the three locations. Patients can fill out this form to request a colonoscopy screening.