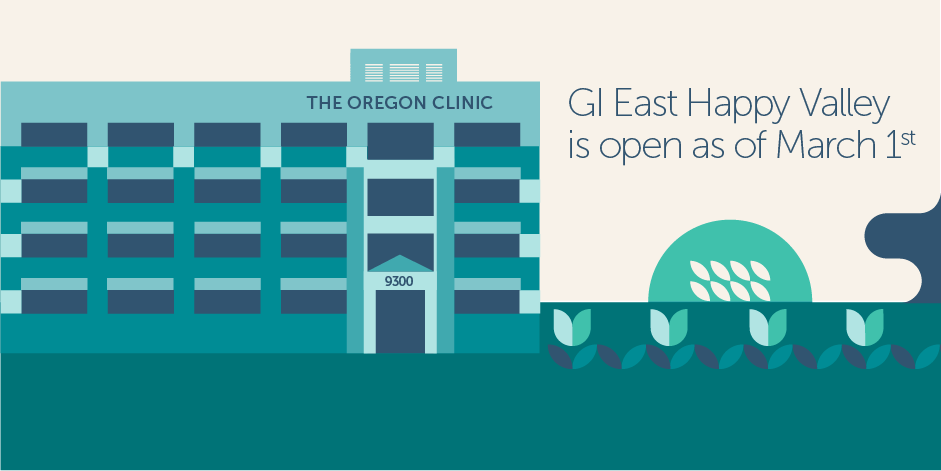 New clinic opening expands appointment opportunities on the East side of Portland
Portland, OR – March 6, 2023 – The Oregon Clinic's (TOC) gastroenterology services are expanding to Happy Valley with the opening of a new clinic this March. TOC's newest location, "The Oregon Clinic Gastroenterology East – Happy Valley," will offer a wide range of gastroenterology services at a convenient new location in the Mt. Scott Professional Center – Medical Plaza 2 in Happy Valley. The new site will welcome its first patients on March 6.
"We're excited to expand our specialty into this vibrant community," shared Dr. Sidharth Bhardwaj, Managing Partner at The Oregon Clinic Gastroenterology East. "This site brings our services closer to patients, reducing travel time for appointments and creating more options for our patients in this region."
The convenient location in Happy Valley reduces the distance for many on the East side to travel for a specialist appointment; expands appointment opportunities; and has easy highway access and parking. The Happy Valley site will be staffed by an existing team of The Oregon Clinic Gastroenterology East physicians from nearby locations, who will have the opportunity to see patients in Happy Valley, Gateway, and Mill Plain. The Oregon Clinic is hiring new employees to staff the front and back office at the new site.
The Happy Valley location will include services with a focus on:
Colorectal Cancer
Colon Cancer Screening and Prevention
Diseases of the Liver and Biliary Tract
Diseases of the Pancreas
Esophageal Disorders
Gastroenterology
Gastroesophageal Reflux Disease (GERD)
Hepatitis C Education & Treatment
Hepatology
Inflammatory Bowel Disease (IBD)
Pancreatic Cancer
Small Intestine and Colon
Stomach
The new location is located at 9300 SE 91st Ave., Suite #300, Happy Valley, OR 97086, and will see patients Monday through Friday, 7:30 am– 5:00 pm. Patients wishing to schedule at the new Happy Valley location can call 503-963-2707 to schedule an appointment.
###
About The Oregon Clinic:
The Oregon Clinic is the largest private specialty physician practice in Oregon. Nearly 300 physicians and advanced practice providers provide respectful, compassionate care in more than 30 specialty areas, resulting in more than 550,000 patient visits each year. Founded in Portland in 1994, The Oregon Clinic is committed to delivering the highest quality patient care, practicing evidence-based medicine, and providing leadership for the healthcare community. We collaborate with primary care physicians and use a team approach to address health conditions at more than 60 specialty clinic locations across northwest Oregon and southwest Washington. Call 503-935-8000 or visit www.oregonclinic.com for more information.