Approximately one in three adults in the United States is obese, according to the Center for Disease Control and Prevention. The health consequences of obesity are staggering: it dramatically increases the risk of heart attack, stroke, colon cancer, breast cancer, diabetes, and coronary heart disease. The last of these, coronary heart disease, is also the number one killer of men and women in the United States.

The health benefits of losing weight are clear. Yet trying to lose weight through diet and exercise alone can be frustrating as an adult. Modern lifestyles have become increasingly sedentary and as adults grow older, their metabolisms decline and their natural energy levels decrease. Being overweight exacerbates both of these problems, which may slow results from diet and exercise alone.
Surgical weight loss options have advanced significantly in recent years. Traditional weight loss surgeries, such as gastric bypass and sleeve gastrectomy, can now be performed laparoscopically, which means a small incision is made and surgery is done through the aid of a tiny video camera. This improved technique results in reduced recovery times and minimal scarring.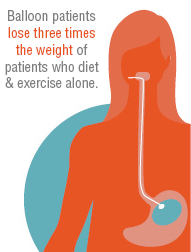 Despite improvements in these surgeries, they are often only available to individuals who are morbidly obese or already experiencing serious health issues. In addition, these surgeries still require extensive time commitments and hospital stays.
An endoscopic form of weight loss treatment called the weight loss balloon does not require surgery at all and is now available in the United States. A soft, durable balloon is inserted through the mouth into the stomach in a simple, 30-minute procedure under sedation. This translates to no recovery time and no scarring since there are no incisions.
The balloon is filled with saline and takes up space in the stomach, which helps patients eat smaller meals and learn portion control. After six months, the balloon is removed through another simple procedure. The weight loss balloon is combined with a comprehensive, 12-month diet and exercise plan to ensure patients can maintain their results beyond the balloon placement period. On average, patients with the balloon lose three times the weight they do with diet and exercise alone.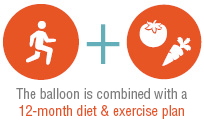 This treatment has been performed in Europe for many years, with over 200,000 successful placements worldwide. It is now available in the United States for those who do not already have serious health issues and who are moderately overweight (a body mass index between 30 and 40).
The Oregon Clinic is proud to be among the first physicians to provide this treatment in Oregon. If you are interested in finding out if this weight loss treatment might be right for you, please visit oregonclinic.com/weight-loss-balloon.
Kevin Reavis, MD, FACS
Dr. Kevin Reavis is a board-certified surgeon and national leader in bariatric surgery at The Oregon Clinic. Dr. Reavis and his team are nationally renowned leaders in minimally invasive surgery.