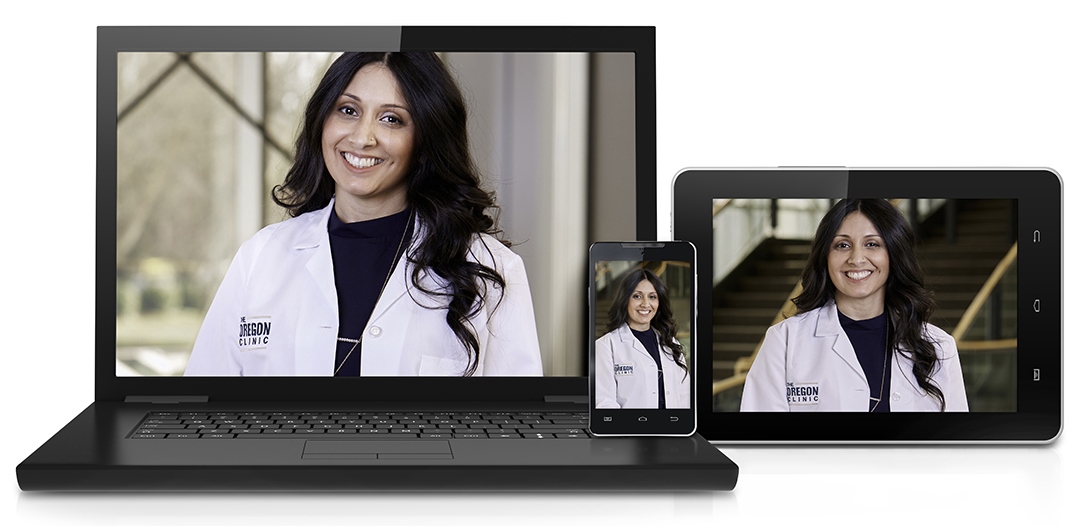 Portland, OR – The Oregon Clinic today announced that, in response to the COVID-19 pandemic, their specialty physicians are now offering virtual health visits (telehealth) to many patients. With Oregon and Southwest Washington residents asked to stay home and restricted from visiting physicians for non-urgent appointments, many patients have been unable to access necessary specialist health care. The Oregon Clinic's team worked around the clock to get a new telehealth program up in running within one week, and began offering virtual visits on March 25.
"Our patients need access to their specialists, travel restrictions or not," said Dr. Richard Jamison, President and Chair of the Board at The Oregon Clinic. "Getting our patients the care they need to stay healthy is our top priority, so we did everything in our power to make this happen quickly."
A virtual visit is a two-way, live, one-on-one video-based appointment between a patient and a physician at The Oregon Clinic. The Oregon Clinic's physicians are utilizing Microsoft Teams to connect with patients virtually. Virtual visits are designed to temporarily take the place of an office visit for a medical issue during this time of social distancing. Patients can utilize their Android phone or tablet; iPhone or iPad; or desktop computer for the visit.
"We're learning the technology right alongside our patients," explained Dr. Hopkins, Dermatologist at The Oregon Clinic. "Like everyone else during this crisis, we're adapting and so far the response from our patients has been incredibly positive. The human connection is still there, and it's a relief to still be able to help our patients."
The Coronavirus Preparedness and Response Supplemental Appropriations Act, signed into law by the President on March 6, 2020, included provisions that allow patients to receive telehealth visits from any setting, including their own home. (Medicare previously required telehealth visits to be conducted from a medical facility.) New legislation also broadened regulations around the types of technology that can be used to conduct virtual visits, allowing patients to utilize consumer technology to connect with their physicians.
"I've been absolutely impressed by how quickly our team has managed to get this program up and running," said Thomas Sanchez, CEO of The Oregon Clinic "Our entire organization showed their flexibility, dedication, and creativity to make virtual visits available to our patients. Not only is this a huge benefit to our patients, but it also gives opportunities for our talented team to keep working, from physicians to medical assistants to billing staff."
Patients with COVID-19 or medical emergencies are still eligible to receive in-person care. Any patient with COVID-19 symptoms should call their primary care physician before coming into any medical office. If their symptoms are serious, they should go to the Emergency Room. Medical care that cannot be provided through a virtual visit and cannot wait is still being offered at multiple Oregon Clinic locations throughout the region, including pulmonological care, emergency surgeries, burn and wound care, obstetrics, radiation oncology and more.
The Oregon Clinic is a physician-owned multi-specialty medical provider. With more than 270 providers, The Oregon Clinic sees more than 240,000 patients each year at more than 60 locations in the Portland-metro area. Specialties at The Oregon Clinic include cardiology, dermatology, gastroenterology, neurosurgery, radiation oncology, pulmonary and critical care medicine, urogynecology and much more.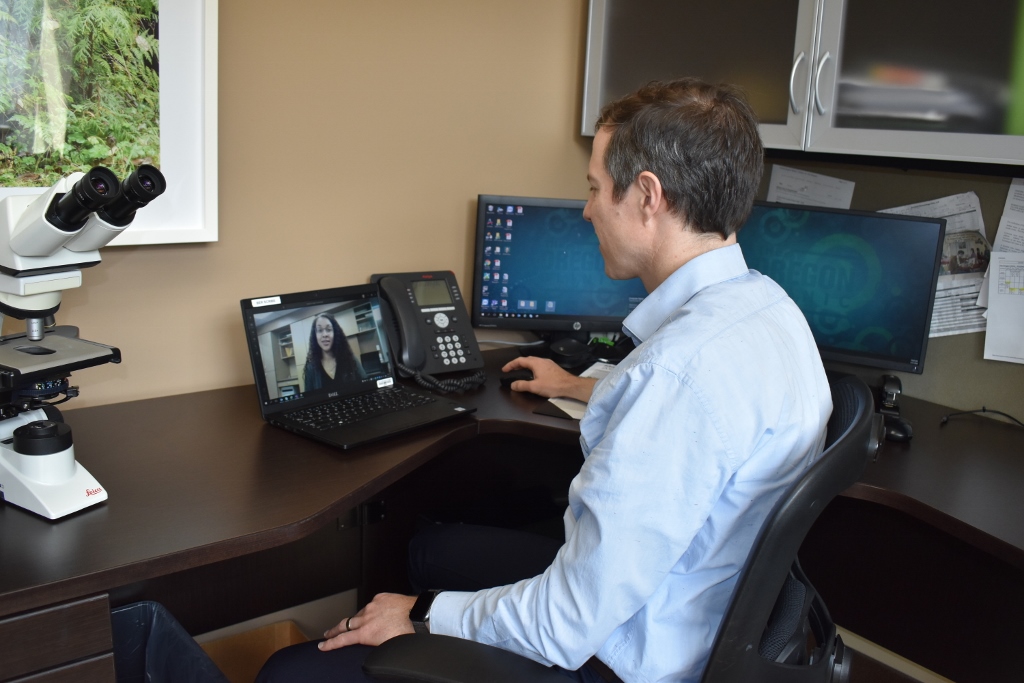 Dr. Hopkins in his office.