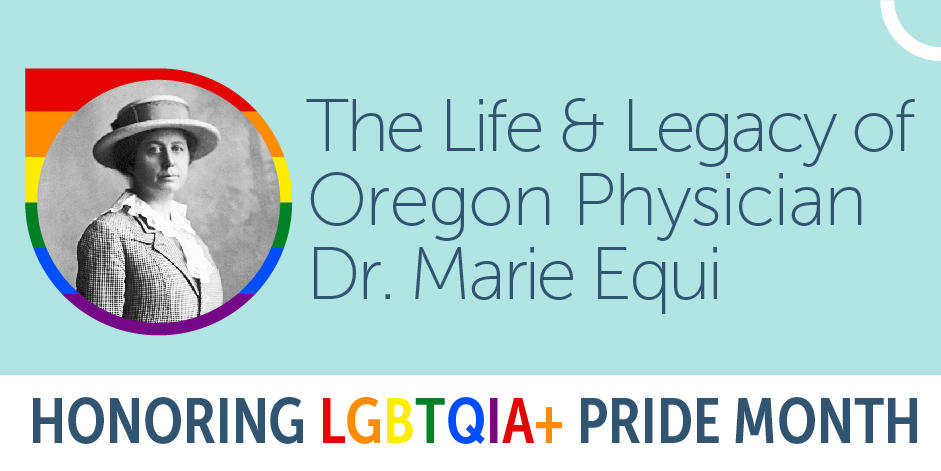 June is LGBTQIA+ Pride Month, a time to commemorate the 1969 Stonewall Uprising in New York City and recognize the impact that LGBTQIA+ individuals have had on history and culture in the US and around the world.
This year, The Oregon Clinic is proud to highlight the life and legacy of Dr. Marie Equi, one of Oregon's first women physicians who also lived openly as a lesbian and was a fierce advocate for labor rights, women's suffrage, and reproductive rights during the early twentieth century.
LIFE AND CAREER IN PORTLAND
Dr. Marie Equi earned her medical degree in 1903 and then set up a general practice in Portland, becoming one of the few women physicians in the state at the time. Most of Dr. Equi's patients were lower and working-class women and children, whom she often treated at no charge.
She lived openly as a lesbian, decades before the queer liberation movement began. In 1915, she and her partner adopted an infant girl and lived together for many years.
ACTIVISM
Dr. Equi's advocacy for the health needs of working women and their families inspired and informed her activism, as she championed birth control, women's suffrage, and reproductive rights. Dr. Equi was also a tireless advocate for labor rights and improved working conditions for men and women. She often provided medical care to workers who were wounded and attacked while striking.
Dr. Equi publicly denounced the United States' decision to enter World War I. She was arrested and convicted of sedition in 1918 and served ten months in San Quentin State Prison. Dr. Equi returned to Portland in 1921 and lived a quieter life, although she remained committed to the causes of labor, women's health, and social justice for the rest of her life. Dr. Equi stopped practicing medicine in 1930 after suffering a heart attack, and she died in Portland in 1952.
Sources:
Oregon Encyclopedia – Marie Equi (1872-1952)
OPB: Physician, lesbian, radical labor activist – the passions of Portland's Dr. Marie Equi