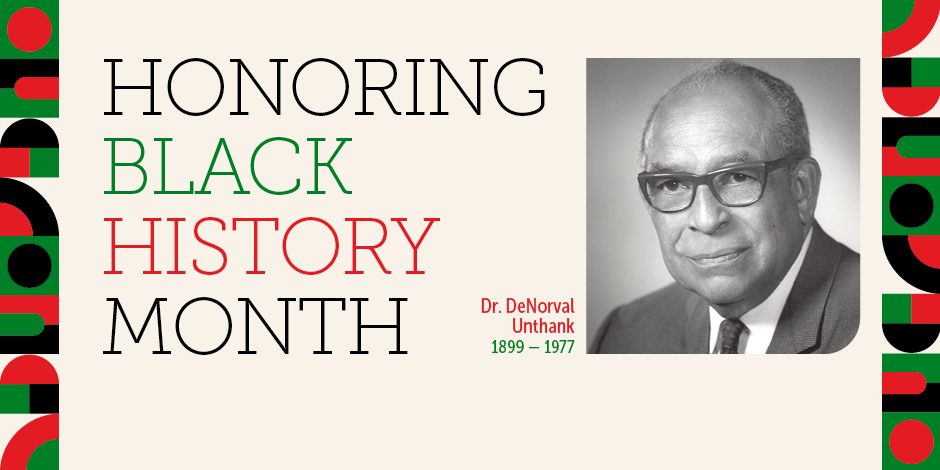 This Black History Month, The Oregon Clinic is proud to highlight the life and legacy of a Black leader who had a lasting impact on our community here in Portland, Oregon: Dr. DeNorval Unthank (1899-1977), a prominent physician and passionate civil rights activist.
After receiving his medical degree from Howard University in Washington, DC, Dr. Unthank moved to Portland in 1929 at the request of a fellow physician to specifically treat Black patients. At that time, Oregon had only recently amended its constitution to remove the Black exclusion laws that had prevented Black people from settling in the state. These exclusion laws had an enormous impact on healthcare as few clinics would treat and see Black patients. This racist legacy also meant that many Black Portlanders, including Dr. Unthank and his family, faced harassment and violence from their white neighbors and struggled to find employment.
Despite these hardships, Dr. Unthank became a well-known and respected physician who treated Black employees of the Union Pacific Railroad. During the 1930s and 1940s Portland's Black population began to grow rapidly and so did their position and influence in the community. Dr. Unthank was able to expand his practice to treat Asian American patients as well as white patients. In 1931, Dr. Unthank became the only Black physician practicing in Portland until the 1940s. He was on the staff of Good Samaritan, Providence, St. Vincent, and Emanuel Hospitals until his retirement from medicine in 1970. Dr. Unthank gained a reputation for being a trusted medical professional as well as a leader in Portland's growing Black community.
Dr. Unthank's influence also extended beyond medicine. He frequently spoke out against racial discrimination in Portland and became an important figure in Portland's emerging civil rights movement, helping to found many organizations that still exist today. He became the first Black member of the City Club of Portland, co-founded the Urban League of Portland, and served as president of the local NAACP chapter. He was also active in the passage of Oregon's 1953 Civil Rights Bill.
In 1958, Dr. Unthank was named Doctor of the Year by the Oregon State Medical Society. During his lifetime he was also recognized with awards from the University of Oregon, Concordia College, the Portland chapter of the National Conference of Christians and Jews, and other organizations. In 1969, the city dedicated a park in the Boise neighborhood to Dr. Unthank in honor of his activism and work to dismantle racial barriers in Portland. He remains the only physician in Portland to have such an honor.
Sources:
Oregon Encyclopedia – A Project of the Oregon Historical Society