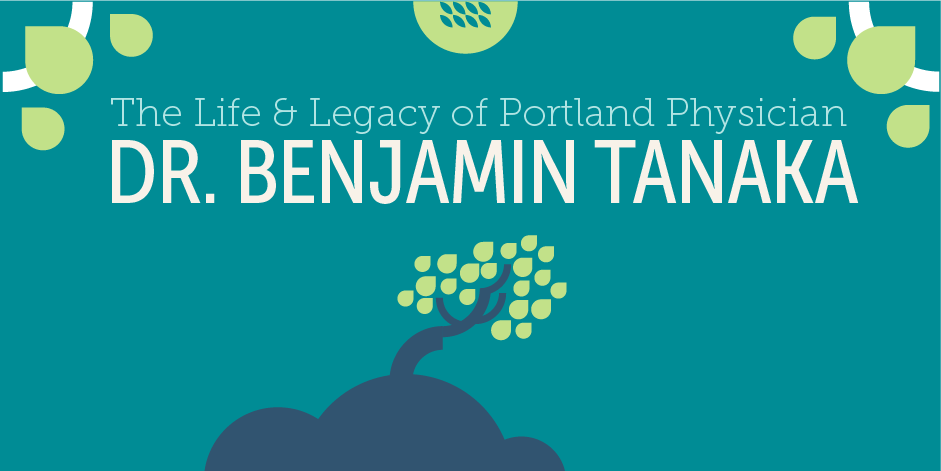 May is Asian American and Pacific Islander (AAPI) Heritage Month, a time to recognize and celebrate the contributions of AAPI individuals to the history and culture of the US. This year, The Oregon Clinic is proud to highlight the life and legacy of Dr. Benjamin Tanaka (1887-1975), a prominent physician in Portland whose story is part of the Japanese American community's experience here.
Dr. Tanaka was born on the Island of Hawaii in 1887. He attended the University of Oregon and graduated in 1920 as the fourth person of Japanese heritage to graduate from the medical school.
Life in Portland's Japantown
Dr. Tanaka established his medical practice in Portland's former Japantown, a diverse and lively neighborhood now known as Old Town/Chinatown. In the 1890s, an increased demand for labor on railroads, farms, and in the timber industry brought many Japanese immigrants to the Portland area.
His office was located in the Merchant Hotel, now home to the Japanese American Museum of Oregon . His patients were primarily Japanese. He held admitting privileges at Good Samaritan Hospital and Portland Adventist Hospital and was known for his treatment of pneumonia. Dr. Tanaka became a prominent member of the Portland community throughout the 1920s and 1930s.
World War II & Incarceration Camps
Following the attack on Pearl Harbor and the US declaration of war on December 7, 1941, Dr. Tanaka was arrested by FBI agents. He was considered an alien Japanese resident as he was born in Hawaii, which was not yet a state. He was held at the Multnomah County Jail before being transferred to a prisoner-of-war unit in Montana. He was then relocated to several other federal incarceration camps across the country, where he practiced medicine in the prison hospitals.
In Portland, an exclusion order issued on April 28, 1942 required all Japanese residents to report to the Pacific International Livestock and Exposition Center (now the Expo Center). Portland's Japantown began to empty as its inhabitants surrendered or were forcibly put into the camps. By 1942, the neighborhood was essentially nonexistent.
Post-War Life in Oregon
After being released in 1946, Dr. Tanaka reunited with his wife and three children. They briefly returned to Portland before settling in Ontario in Malheur County. There, he established the Tanaka Clinic in 1958. The doctors on staff included Dr. Tanaka's son Gus, a general surgeon. Gus went on to become the first minority elected president of the Oregon Medical Association in 1971.
Dr. Tanaka retired from practice in 1971, but his clinic continued until the property was purchased by the Holy Rosary Medical Center, now known as the Saint Alphonsus Medical Center. Dr. Tanaka died in 1975, at the age of 88.
Sources:
Oregon Encyclopedia — Benjamin Tanaka (1887-1975)
Oregon Encyclopedia — Japantown, Portland (Nihonmachi)