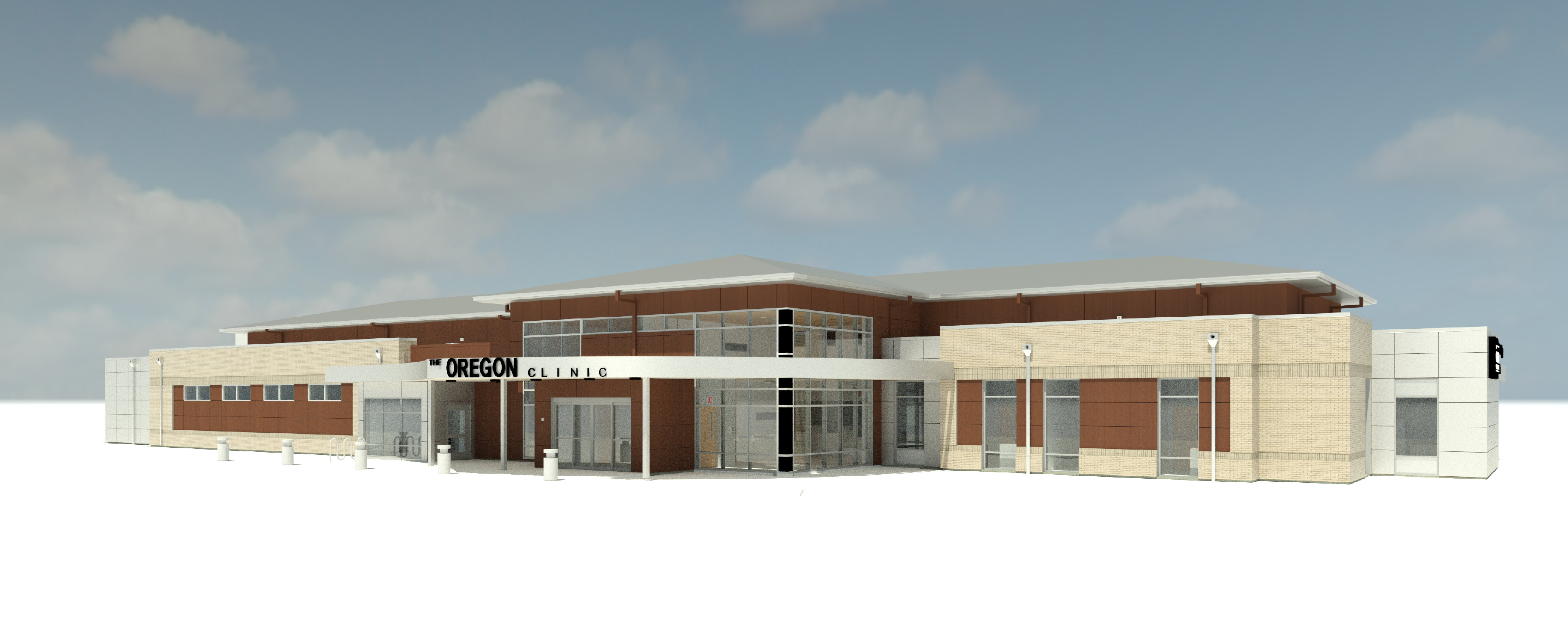 Newberg, OR – September  20, 2018 – The Oregon Clinic is celebrating the opening of its newest facility, a Gastroenterology specialty clinic located in Newberg, Oregon. Built from the ground up, the new 19,000-square-foot building houses a fully-functioning clinic and endoscopy center. Newberg is now the seventh location served by The Oregon Clinic gastroenterology specialty services in the greater Portland area. Physicians will begin seeing patients at the new facility on Monday, September 24, 2018.
Specialists in Newberg will care for and diagnose a wide range of digestive diseases and symptoms, including abdominal pain and bowel difficulties, reflux, swallowing problems, colon and intestinal organ cancers, hepatitis, inflammatory bowel disease, liver and pancreatic problems, and many other conditions. The new ambulatory surgery center will perform colonoscopy and upper intestinal endoscopy services and will increase access locally for these diagnostic and life savings procedures. Once fully up and running, at least seven gastroenterologists will see between 15,000-20,000 patients in Newberg each year.
"We're thrilled to give our patients more options and easier access to care," says Dr. Jeff Douglass, gastroenterologist at The Oregon Clinic. "This new facility will enable more people to get timely colonoscopies and the care they need, right in the community where they live."
The Oregon Clinic's gastroenterologists have had a presence in Newberg since 2006, seeing patients a few half days each week at the Newberg medical office building while also caring for hospital patients around the clock. Over the past several years, The Oregon Clinic's Tualatin gastroenterology office has been operating at full capacity, and the length of time patients are waiting to get an appointment in Newberg and Tualatin has continued to increase. The new facility will enable The Oregon Clinic to have a full-time presence in Newberg, shortening patient wait times for appointments and seeing many more patients locally. For many patients who travel from the Oregon Coast and throughout the greater Yamhill County area to see The Oregon Clinic's gastroenterologists in Tualatin and other locations, this new facility also decreases travel time to appointments.
This new facility means expanded access to colon cancer screening and prevention with colonoscopy for Newberg and surrounding communities. The U.S. Preventive Services Task Force recommends all adults get screened for colon cancer beginning at age 50, sooner for those with family history or risk factors. Yet despite colon cancer being the second leading cause of cancer related deaths in the United States, Yamhill County has been an underserved area: only 55% of Yamhill County adults are current on screening, compared to 72% and 73% for neighboring Washington and Clackamas counties, according to the Oregon Health Authority.
The new facility will ultimately bring more than 20 jobs to local communities, divided between the new facility in Newberg and openings in Tualatin as existing staff transfer to the new location.
The building was designed by Jon Anderson from Anderson Dabrowski Architects and constructed by Mortenson. Additional local partners included Brad Christiansen at Colliers International real estate, Klosh Group construction consulting, Samuels Yoelin and Kantor Attorneys at Law, and Columbia Bank.
Patients seeking appointments at the new facility can call 503-692-3750.
The new facility is located at:
The Oregon Clinic Gastroenterology South at Newberg
879 Providence Drive
Newberg, OR 97132
About The Oregon Clinic
The Oregon Clinic is the largest private specialty physician practice in Oregon. Our 270 providers give respectful, compassionate care at more than 550,000 patient visits each year. Founded in Portland in 1994, The Oregon Clinic is committed to delivering the highest quality patient care, practicing evidence-based medicine, and providing leadership for the healthcare community. We collaborate with primary care physicians and use a team approach to address health conditions at 60 specialty clinic locations across northwest Oregon and southwest Washington. Call 503-935-8000 or visit www.oregonclinic.com for more information.