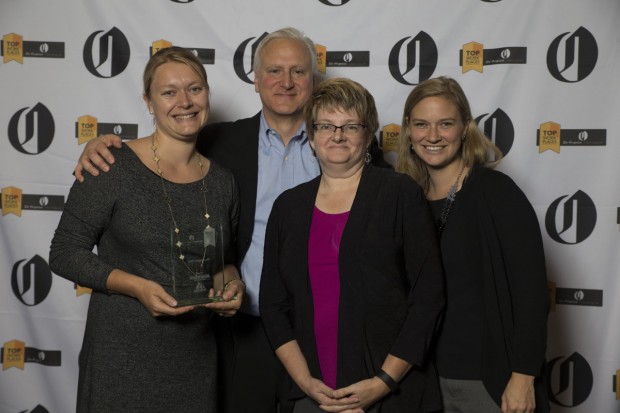 Be compassionate with your patients. Do what's in their best interest. Have a healthy curiosity for how to best serve them. These mantras guide the work of the more than 1,000 employees at The Oregon Clinic, and that patient-centered approach is part of what makes employees say it's one of the best places to work in Oregon. The Oregonian recognized The Oregon Clinic last night as fifth among Top Workplaces in large companies in Oregon. Generous benefits, competitive pay, and flexible schedules were all lauded by employees, but the focus on successful and positive patient outcomes is what really matters at The Oregon Clinic.
"We put patients first, which is how healthcare should be. Accommodations are made to ensure a positive patient outcome. Providing high quality customer service is first and foremost, [and] I still feel like TOC cares for each and every employee the same as when they first opened," explained one employee in the anonymous survey conducted by The Oregonian's research group.
74% of The Oregon Clinic employees, spread across 57 clinic locations, completed the Oregonian's anonymous survey, a very high response rate. The survey measured employee engagement and happiness with their workplace, asking questions about leadership, benefits, training and range of workplace-satisfaction issues.
Patient satisfaction surveys tell much of the same story, where more than 90% of patients are happy with their care and would refer others to The Oregon Clinic.
"I have been to more ENTs, neurosurgeons, neurologists, and neurotologists in the last three years than you can count. [My doctor at The Oregon Clinic] was the most knowledgeable, the best communicator, and the most willing to spend all the time it took to provide premium care, even though I know I cut into her lunch time. She also has great compassion. She is a gem," described one patient.
"All of the staff, from the front desk to the doctor, were terrific," said another patient. "I felt they really cared about me and my health."
"We prioritize employee happiness and success in part because we know happy employees lead to better patient care," explained Dr. Craig Fausel, President of The Oregon Clinic. "We value our employees and want them to do their best work possible. To enable that, we support them the very best we can."
Physician owned and physician led, The Oregon Clinic is unique in its organizational structure that allows physicians to retain their private practice autonomy. Physicians hold leadership positions and directorships in collaboration with several of the major health care systems and hospitals throughout the Portland metro area, but are independent practitioners.
The executives at The Oregon Clinic are practicing doctors who still maintain busy patient schedules in addition to their executive duties: President Craig Fausel, MD is a Gastroenterologist of 32 years. The three Executive Vice Presidents are a Pulmonologist, a Gastroenterologist, and a General Surgeon. The Board of Directors consists of shareholder physicians who represent different specialties within the organization.
Employees at The Oregon Clinic take pride in the excellent quality care they provide to their patients. "Knowing that every day I am assisting excellent physicians in improving the health and lives of patients is very rewarding. We all have a common goal, and we're all working together to do what's best for everyone," described an employee.
The Oregonian partnered with Philadelphia-based WorkplaceDynamics, an employee research and consulting firm, to determine the region's Top Workplaces rankings. Companies throughout Oregon and southwest Washington were ranked based on employee feedback about benefits, work environment, job satisfaction, and more. To see the full list of award recipients, visit http://www.oregonlive.com/business/index.ssf/2016/09/full_list_of_winners_top_workp.html.