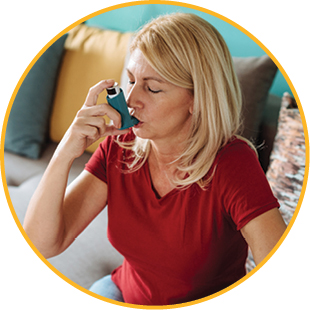 The Oregon Clinic Pulmonary, Critical Care & Sleep East has launched the only comprehensive asthma center in Portland. We provide comprehensive multidisciplinary evaluation and management of patients with asthma with the goal of establishing an evidence-based yet personalized plan of care for each specific patient.
We offer several specialized care programs for management of asthma patients including:
PACE (Personalized Asthma Care and Education) Program.
Asthma in athletes.
Severe/Refractory Asthma.
Women and Asthma (with special focus on asthma management during pregnancy).
An essential part of the Asthma Center is our state-of-the-art pulmonary function testing lab with multiple test options to accurately determine the specific factors of each patient's condition. Allergy testing and evaluation for vocal cord dysfunction can also be performed in collaboration with the team at The Oregon Clinic Ear,
Nose & Throat East.
To ensure we are meeting the needs of each patient, we perform a comprehensive history and symptom evaluation at each visit. Our Center also features a certified asthma educator who works with patients to assess and enhance their understanding of their particular type of asthma, monitoring their symptoms, proper inhaler technique, environmental control measures and avoidance of triggers.
People with asthma know that it can have significant symptoms affecting quality of life, including significant loss in work or school productivity. Patients with severe asthma may have multiple flares requiring ER visits, hospitalizations and frequent or continuous treatment with steroids. Fortunately, in recent years, we have seen significant advances in our understanding of asthma with a special focus on defining the different specific types of asthma. With this new understanding of each patient's condition, we can tailor treatment options, including consideration of various kinds of immunotherapy including Xolair, Nucala and Fasenra.
We also offer a treatment called bronchial thermoplasty as an option for patients who have frequent flares despite medical treatment. Bronchial thermoplasty involves delivery of controlled therapeutic radiofrequency energy to the bronchial wall to decrease smooth muscle density and reduce bronchial hyper reactivity. The procedure is performed as an outpatient in three settings. For patients with severe asthma, undergoing bronchial thermoplasty has been shown to significantly reduce the frequency of asthma flares as well as significantly improve asthma related quality of
life scores.
In partnership with Providence speech therapy, we provide specialized treatment for vocal cord dysfunction and exercise-induced spasm of the larynx, which can often mimic asthma and is sometimes associated with underlying asthma. We are also involved in high quality patient centered research studies aimed at improving lives of asthma patients.