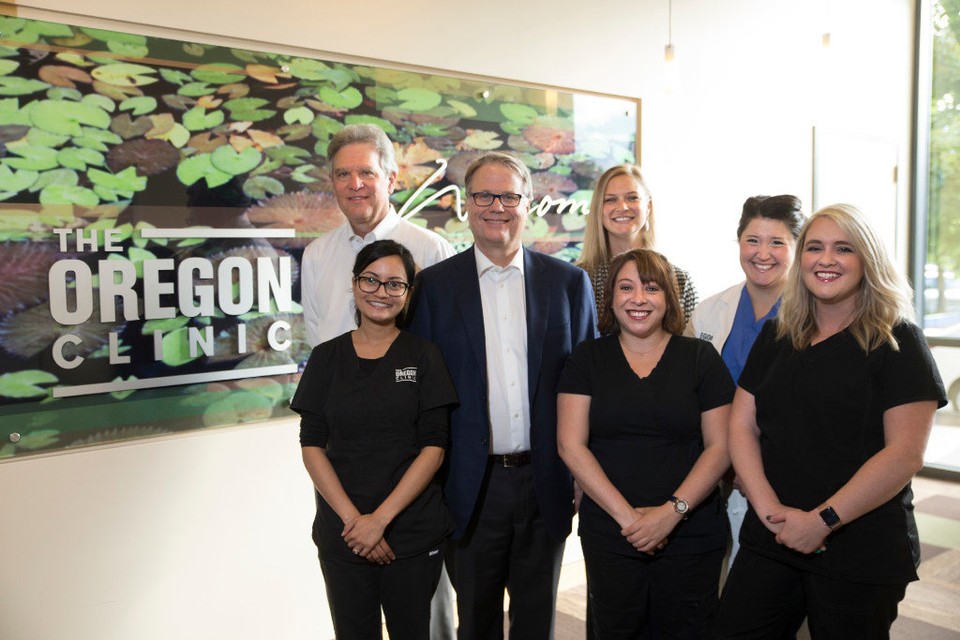 Portland, OR – September 29, 2017– The Oregon Clinic was named Oregon's #1 Top Workplace among large companies Thursday evening at an event held by The Oregonian in Portland. This is the fourth year The Oregon Clinic has been recognized as one of the top workplaces in Oregon and southwest Washington, but the first year winning the top honor.
"There is a huge amount of excitement in the organization today," described Dr. Craig Fausel, President and Chair of the Board at The Oregon Clinic. "I'm tremendously grateful to our staff, and so proud of them for cultivating a place where we respect each other, support each other, and appreciate the hard work we all do to provide our patients with exceptional care."
In describing the process for ranking organizations, The Oregonian writes that, "…when it comes to judging whether an organization is a terrific place to work, there's only one audience that matters: the employees." Workplaces were analyzed based on anonymous employee surveys. Employees cited their supportive work environment, camaraderie, unified priority of exceptional patient care, and benefits among reasons they loved working at The Oregon Clinic.
"I work with wonderful people in an organization that cares about taking care of its patients and employees, not in a way that is fake or perfunctory, but sincerely and with good humor. Our President doesn't have a big office – rather he still sees patients and has a tiny cube," described one employee.
"I came to The Oregon Clinic with the expectation of being treated fairly and respectfully. I feel they have gone above and beyond my expectations with the amount of respect, fairness, trustworthiness [they have show], and so much more. I love my job and the company," shared another employee.
866 employees at The Oregon Clinic shared their opinions via the anonymous survey. 86% of employees said they'd highly recommend working at The Oregon Clinic to others, and 80% felt motivated to give their very best at work.
"I felt honored and privileged to accept the award for The Oregon Clinic, and grateful for all of our incredibly hardworking employees," said Scot Gudger, CEO at The Oregon Clinic. "I've been here only a few months, but I hear over and over again throughout the organization – our employees love working here. They are truly the ones making this place great."
As the largest physician-owned multi-specialty medical practice in the region, The Oregon Clinic cultivates a culture that focuses on exceptional patient experiences and a supportive workplace for employees. "Our success comes from the fundamental belief that our physician-owners value supporting staff in providing excellent care for our patients in a great work environment," said
Scot Gudger. The Oregon Clinic's more than 1,180 employees include more than 270 providers, seeing approximately 350,000 patients in our region each year.
The Oregonian partnered with Philadelphia-based WorkplaceDynamics, an employee research and consulting firm, to determine the region's Top Workplace rankings. After inviting 1,422 public, private, government and nonprofit organizations to participate, 152 companies throughout Oregon and southwest Washington were assessed through employee surveys. More than 27,000 employees in the region completed surveys about employee engagement, organization health, benefits, work environment, job satisfaction, and more, resulting in the ranking of the top 100 workplaces.
Source: Top Workplaces 2017: At The Oregon Clinic, success all about employee buy-in