Pulmonary Vascular Institute
Our mission is to provide compassionate and comprehensive care for people with pulmonary hypertension, to empower physicians and patients through education and outreach, and to advance the field through medical research.
ABOUT US
OUR TEAM
Patient Education
Research
Referring Practitioners
Our group of physicians strive to be at the forefront of Pulmonary Hypertension medicine.
Our Approach
As a team of specialists in pulmonary and cardiovascular medicine, we bring a multidisciplinary approach to the care of people with the full spectrum of pulmonary vascular diseases.
We take the time to educate patients and families about pulmonary hypertension and the available treatment options. We always strive to formulate a complete plan that fits each person's values and goals. We offer counseling in lifestyle changes, proper nutrition, and exercise as well as opportunities to enroll in clinical trials.
Our Accreditation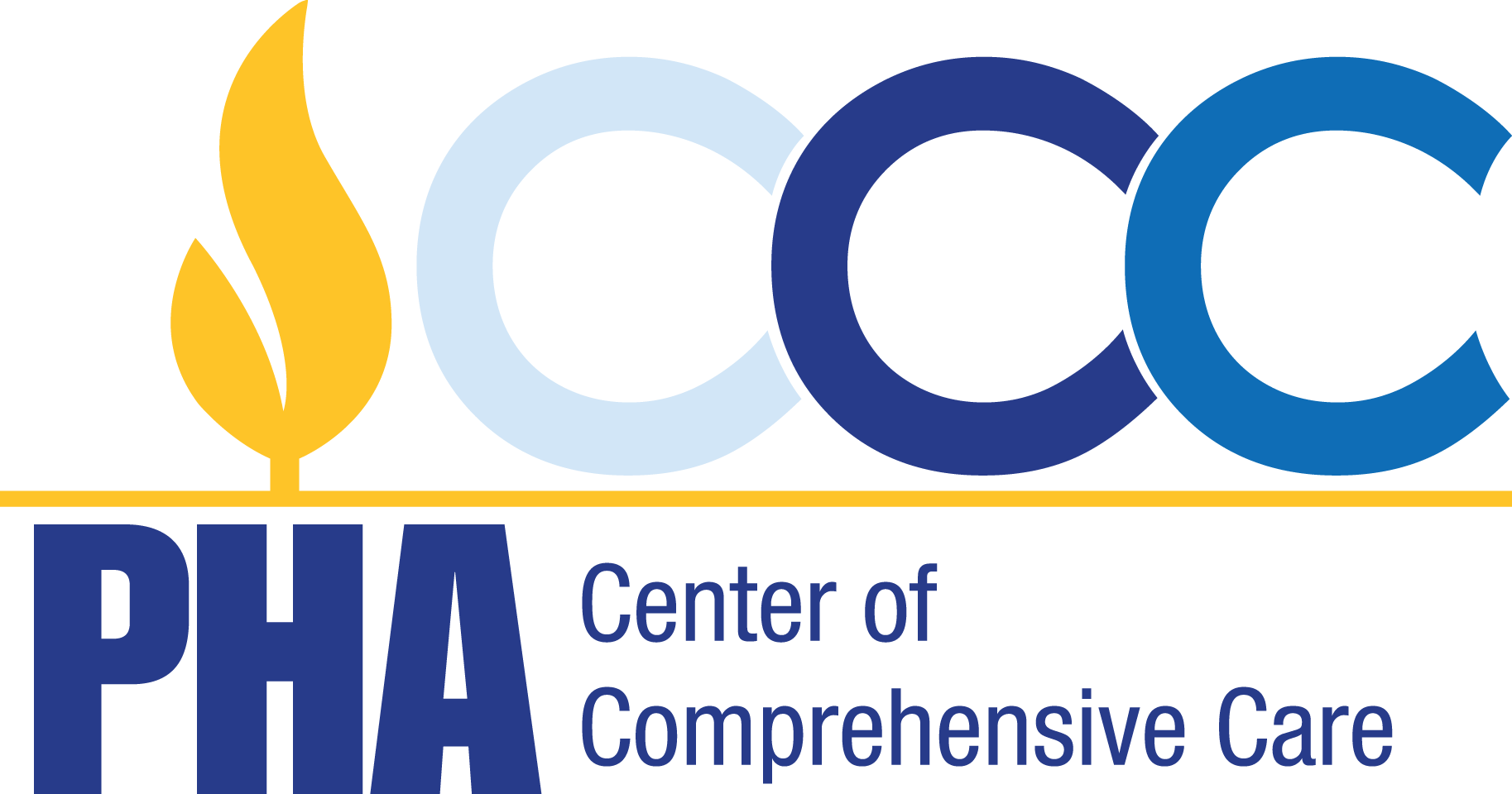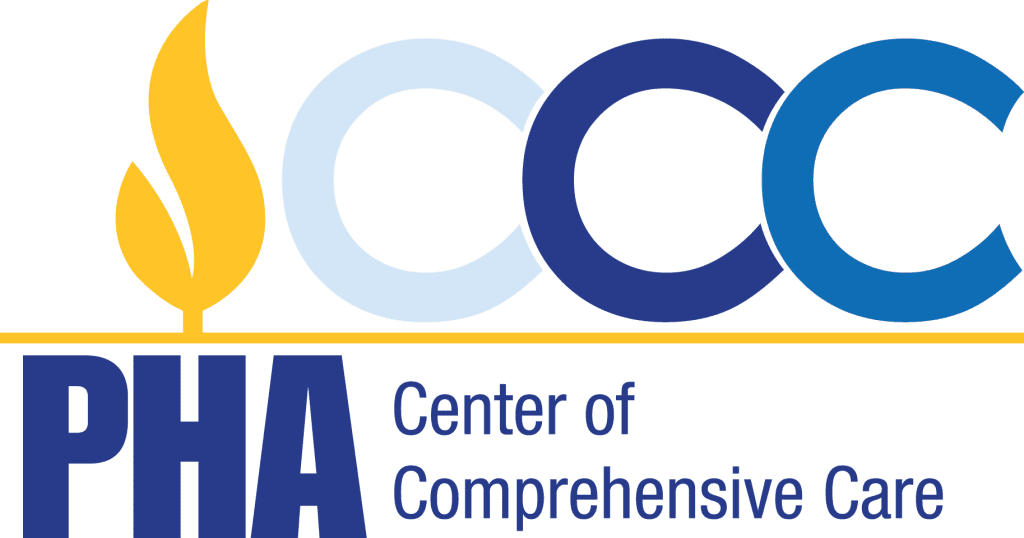 PVI is accredited by the Pulmonary Hypertension Association (PHA) as a Pulmonary Hypertension Care Center (PHCC). We are proud to not only have been the first accredited center in the Pacific Northwest, but we are also the only one in Oregon.
PHCC accreditation means that our program "is a highly organized, full-time PH Center that proficiently evaluates PH patients based on published evidence-based guidelines and also provides expert treatment of pulmonary arterial hypertension (PAH) patients with all of the FDA-approved therapies."
Learn more about the PHA at http://www.PHAssociation.org.
What is Pulmonary Hypertension?
Pulmonary hypertension, or PH, is increased pressure in the pulmonary arteries. These arteries carry blood from the heart to the lungs where they pick up oxygen.
If a heart is healthy, the right side of the heart can pump blood through the pulmonary arteries to the lungs, where the blood picks up oxygen.
For someone with PH, the changes to the pulmonary arteries make it harder for the heart to push blood through to the lungs, causing the right side of the heart to get bigger. As the disease progresses, the right side bulges against the left side, making the heart work harder to get blood to the body. This is called heart failure.
PH can cause symptoms such as:
Breathlessness
Chest pain
Dizziness
Fatigue
Leg swelling
The more advanced the disease is, the more noticeable these symptoms are. As the disease progresses, symptoms can also include a racing pulse, irregular heartbeat or passing out.
At this time, PH has no cure. However, there are many treatments available and research for new treatments is ongoing. Treatments include medicines, procedures, and other therapies. These treatments can relieve PH symptoms and slow the progress of the disease. Lifestyle changes also can help control symptoms. The earlier PH is treated, the easier it is to control.
Learn about treatment options for pulmonary hypertension.
Causes
PH is divided into five groups based on its causes.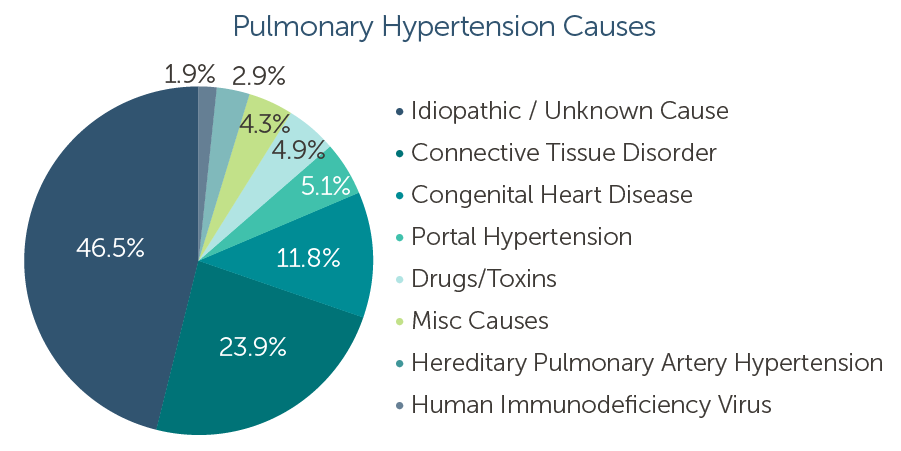 In 2014 a study called REVEAL was published showing how common different causes were in patients with pulmonary hypertension. While most people who have pulmonary hypertension have it for no known reason, working with a team of experienced PH providers can greatly help with identification of associated risk factors.
Why are the different causes so important?
If a patient has pulmonary hypertension because of problems with the left side of their heart, their treatment is completely different than if a patient has PH because of scleroderma, a connective tissue disorder. Having a team of medical providers that are experienced in treatment for all of the types of pulmonary hypertension is crucial as an incomplete workup and/or inappropriate treatment plan can worsen your quality of life.
The treatment of patients with pulmonary hypertension has progressed rapidly in recent years. We have many treatment options available to tailor to a person's individual needs. There is still much to learn about how to best use existing medications to maximize their benefit, and there is still a need for other therapies.
We believe strongly that clinical research trials are vital to advancing the field of pulmonary hypertension and are proud of our clinical research program. You can see a list of The Oregon Clinic's current Pulmonary Research & Clinical Trials here.
Because we are a PHA accredited PH Care Center (PHCC), we are involved with many areas of research. For example, we are participate in the Pulmonary Hypertension Association Registry (PHAR) – a collaborative and secure data collection tool that just might one day be instrumental in developing new directions for treatment methods.
If you have been diagnosed with pulmonary hypertension and are interested in learning more about your eligibility for current studies, contact:
As a nationally accredited center for the care of patients with pulmonary hypertension, we perform a comprehensive evaluation and develop an individual treatment plan for patients. All our practitioners highly value the opportunity to communicate and work collaboratively with referring providers.
What You Can Expect
You can expect that your patients will get a thorough workup for all the conditions that contribute to pulmonary hypertension.
We typically look at and evaluate:
Lung structure and function
Injury to the pulmonary vasculature
Potential blood clots or hypercoagulable states
We work with cardiologists to characterize any valvular disease, congenital heart disease or left ventricular dysfunction. We also offer full service sleep disordered breathing evaluation and treatment options.
Many patients are referred for a right heart catheterization to confirm clinical diagnosis and guide treatment as this is the gold standard for pulmonary hypertension diagnosis.
We are always available to discuss potential referrals and help guide testing prior to the patient's first appointment. If a patient needs an urgent evaluation, we strive to get them in for an appointment within 1-2 days.
We are very proud of our close relationship with many primary care providers, cardiologists, and rheumatologists through the Portland area and the greater Northwest. We look forward to providing a very high level of service to you and your patients.
Research
Our center has many active clinical research trials. If you have a patient who may be interested in participating in a trial, we are available to discuss their options. Click here to see the trials that we are open and currently enrolling.