For patients like 65-year old Charles Mortensen (not his real name), gastroesophageal reflux disease (GERD) is a daily source of distress and concern, especially when medications fail to suppress gastric acid production sufficiently enough to alleviate painful symptoms. Until recently, the only proven alternative was traditional surgery. Now GERD sufferers like Mortensen in the Portland area can take advantage of a new 45-minute procedure being offered by two surgeons at The Oregon Clinic, Drs. Christy M. Dunst and Lee L. Swanstrom.
Called laparoscopic magnetic sphincter augmentation, the procedure involves implanting a small device (LINX) to tighten the opening of the lower esophageal sphincter (LES) and stop reflux while allowing the patient to eat normally. The Oregon Clinic is one of only 25 centers in the country with physicians who are able to perform the LINX procedure.
GERD, also called acid reflux, is a common disorder resulting from an abnormal opening of the LES, which allows bile and acid from the stomach to flow up into the esophagus causing burning pain and fluid in the chest and throat. Affecting at least 10 percent of the population in Western countries, even high doses of proton pump inhibitors (PPIs, such as Nexium, Prevacid and Prilosec) don't eliminate GERD-related symptoms in nearly 40 percent of patients. These patients are at risk for serious complications such as position-related regurgitation with aspiration and Barrett's esophagus, a condition in which the normal cells lining the esophagus are replaced by a certain type of cell that normally only occurs in the lining of the intestine.
"Even with dietary changes and the strongest available medication, I had burning in my chest, difficulty swallowing and a persistent dry cough that lasted hours after a meal and disrupted my sleep," said Mortensen. "After years of suffering, I was a candidate for traditional surgery, but I kept putting it off due to overall concerns. When I realized there was another option that wouldn't have the same risks of surgery, I was sold!"
The traditional surgical procedure for the treatment of GERD is called laparoscopic Nissen fundoplication, during which the upper curve of the stomach (the fundus) is wrapped around the bottom of the esophagus and sutured into place. This strengthens the valve between the esophagus and stomach, which prevents stomach bile and acid from backing up but may also cause trouble swallowing, increased gas or bloating and an inability to belch and vomit. Despite the fact that a majority of patients do well with this surgery, the potential for such side effects remains a concern. Consequently, gastroenterologists often tend to limit their referrals for the Nissen procedure to patients with large hiatal hernia or advanced GERD.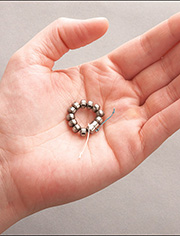 Thanks to Drs. Dunst and Swanstrom at The Oregon Clinic, patients now have a new option to treat earlier GERD.  Using minimally invasive surgical techniques, the LINX device is implanted under general anesthesia during a procedure that lasts about 45 minutes. The device consists of a tiny band of interlinked titanium beads with magnetic cores, placed around the gastroesophageal junction. The magnetic bond between adjacent beads helps the LES resist opening due to gastric pressure, preventing reflux from the stomach into the esophagus. The device is designed so that the magnetic bond is temporarily broken when a patient swallows food, belches or vomits. Patients remain in the hospital less than 24 hours and are generally back to work in a week. Like other minimally invasive surgeries, there is minimal pain. However, patients do have to make dietary modifications in the first few months.
"We use four or five small skin incisions to access the bottom of the esophagus," said Christy M. Dunst, MD, FACS, of The Oregon Clinic. "We wrap the bracelet-like device around the lower valve at the juncture between the esophagus and the stomach to recreate the gastro-esophageal reflux barrier. Unlike Nissen fundoplication, it doesn't require dividing any of the blood vessels or changing the natural anatomy of the stomach."
The Oregon Clinic was one of only 13 centers in the United States to participate in the clinical trial that led to FDA approval in March 2012. One hundred adult GERD patients who were surgical candidates elected to participate in the trial. After following these patients long term, Drs. Dunst and Swanstrom found significant improvement in the quality of life of their patients with no serious complications and few side effects as compared to traditional GERD surgery.
"The new laparoscopically implanted sphincter augmentation device eliminates GERD symptoms without creating undue side effects and is effective at one and two years of follow-up," said Lee L. Swanstrom, MD, of The Oregon Clinic. "We're pleased to be able to offer this less invasive procedure to our chronic GERD patients who risk serious damage to the esophagus due to constant acid reflux."
About Christy M. Dunst, MD, FACS
Dr. Dunst is a board-certified surgeon specializing in esophageal and gastric surgery. With specialized training in minimally invasive and robotic surgical techniques, her areas of focus are GERD, Barrett's esophagus, esophageal and gastric cancer and esophageal motility disorders, among others. She completed medical school at the University of Colorado in Denver. At Hennepin County Medical Center in Minneapolis, she completed a general surgery internship and residency and a fellowship in critical care. Additionally, she completed a fellowship in thoracic foregut/esophageal surgery at the University of Southern California.
In addition to being a member of The Oregon Clinic's Gastrointestinal & Minimally Invasive Surgery Division, she is a staff surgeon at Providence Portland Medical Center and Legacy Good Samaritan Medical Center and serves as the Executive Director for the non-profit organization, The Foundation for Surgical Innovation and Education, which promotes advances in surgical treatments.